Famous sports commentators Ertem Şener and Ahmet Çakar were welcomed in EUL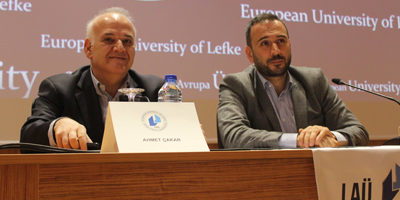 European University of   Lefke (EUL) organized an event entitled "Experience is Important in Sports". Ertem Şener and Ahmet Çakar, well-known sports commentators of Turkey, participated in the event held in EUL Faculty of Law Conference Hall and shared their experiences.
Çakar started to speak to the students by saying, "You live in the most strategic and geopolitical point of the world in terms of the value of this world." Çakar thanked the EUL administration for giving them the opportunity to meet and talk with EUL students.
Çakar stated that some of the referees in Turkey are very talented and world-wide, but some are not in good level, and that the level of Turkish football is equal to Greek and Bulgarian football. Noting that there was no violence in Turkish football, the events were under the level of violence of World football, Çakar expressed that Turkish people love Turkish football because it is like a Brazilian series.
Çakar: I do not consider to head the Central Arbitration Board in the next 5 years
Çakar pointed out that the current administrators should be dismissed from the management to increase the quality of Turkish football and that they should go to the production economics and perform economic control and also that the infrastructure should be developed and that foreign players should be restricted and that no player can be trained in places without infrastructure and that mostly the goal scorers in lower leagues are foreign players. Indicating that Turkish football has 2 successes around the world, Çakar said that these successes were Galatasaray's had being the UEFA Champions and National Team's third place. Çakar expressed that he does not consider to head the Central Arbitration Committee in the next 5 years.
Şener: "Football is a fun and a game. Football is universal and there is no language of football "
Şener stated that they criticized everybody equally in their programs and talked about the milestones of football, saying that the people who could not even administer the apartment are administering the clubs. Sener stated that there are administrators who come out at the end of the match and fool their supporters, sometimes there are two clubs fighting in the field, saying that there is no violence in the stands and that supporters of the teams are the most innocent actors in within this process. Şener stated that under these conditions and managers, two years from now, there will be no team in Turkey which will be able to go to Europe, pointing out that the expenditures of the matches are very high, "Football is a fun and a game. Football is universal and there is no language of football," Şener said.
Şener stated that he presents each and every program with equally high joy and excitement; furthermore feeling the same as he broadcasts live online in social media. Şener expressed that he always commentated about football away from his emotional thoughts but rather professionally.
At the end of the event, Rector Advisor Assist. Prof. Dr. Mehmedali Egemen and Students' Dean Özgür Yılmabaşar presented Şener and Çakar with a souvenir plaque reflecting the cult of Cyprus.