Lack of Physical Activity is a Public Health Concern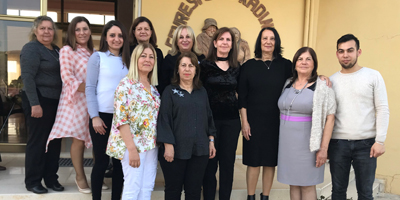 Within the scope of Association of Lefke and Surroundings Pioneer Women's organization which was conducted on the occasion of 8 March World Women's Day, European University of Lefke Faculty of Health Sciences Department of Physiotherapy and Rehabilitation Academician Assoc. Prof. Dr. Beliz Belgen Kaygısız provided training themed "Importance of Physical Activity in the Process of Aging" and the members of the association participated in the training.
Under the framework of training, information about "physical activity" which is becoming more and more important, and daily exercise needs were provided to women.
Kaygısız said that, "Physical activity is defined as any activity that increases energy and heart rate by using our muscles and joints in daily life," and added that physical activity is one of the basic means that supports the physical and psychological developments of individuals.
Kaygısız said that, "Lack of physical activity is a public health concern. Physical inactivity, one of the common risk factors for chronic diseases, ranks fourth in the list of risk factors that cause death worldwide. The spread of an immobile lifestyle is one of the important factors that cause the increase of obesity. Worldwide physical inactivity, together with malnutrition, accounts for about 2% of the average total health expenditure,".
Routine of Physical Activity plays an important role in the struggle against obesity and chronic diseases
Pointing out the importance of sufficient physical activity routine in struggle against obesity and chronic diseases in premenopausal and postmenopausal terms, Kaygısız noted that recent studies have shown that physical activity lead to an increase in cognitive functions in postmenopausal women, reduces the risk of cancer and metabolic syndrome.
Kaygısız finally pointed out the importance of physical activity in the process of aging and emphasized that participating in a regular exercise program for at least 2-3 days a week and / or increasing the daily level of physical activity would be protective for future health problems.