President Ersin Tatar visited the EUL within the framework of his visit to Lefke this morning, and made evaluations with a group of academics on the latest developments on Cyprus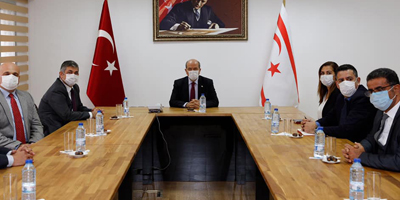 President Tatar during his speech, visiting the university stated that there are problems in higher education due to the pandemic, but that foreign students who continue their university education in the TRNC and are currently on the island find our country safe, and the number of cases is under control compared to many other countries.
President Tatar stated that he believes in time, all students coming from abroad will also come back and that he conveyed talk with the Republic of Turkey CHE Chairman.
President Tatar wished that these problems would come to an end as soon as the vaccine was discovered.
Noting that the European University of Lefke made a significant contribution to the Lefke Region. He also stated that the support of the Ministry of Finance and the investments made in cooperation with Turkey in overcoming the serious difficulties that the university live was beneficial  and as a result, he expresses that the university has improved in number of students. President Tatar thanked the entire university community for their work.
President Tatar reiterated his belief that after the pandemic, with our stance in the Eastern Mediterranean, our messages to the world, with the health infrastructure and investments made, universities will be strengthened and more students can be attracted to the country.
President Ersin Tatar emphasized that reaching a fair, permanent and sustainable agreement on the island can only be achieved with two state models that live side by side and cooperate on the basis of sovereign equality, and emphasized that the role of the UN in this process is mediation and this is their own.
President Tatar stated that the parties have sat at the negotiation table many times for an agreement for many years, and with the negotiation process that collapsed in Crans Montana, it has become clear that it is no longer possible to reach an agreement on the basis of the federation.
Touching on the issue of Varosha, President Tatar stated that the Varosha initiative is a very important step and pointed out the importance of bringing the region into the economy.
President Tatar assessing the latest developments in the Eastern Mediterranean region, noting the importance of equitable sharing of natural gas and hydrocarbon resources, the TRNC is further strengthened in the region and that Turkey will support the TRNC in all areas. Indicating that the sea is a part of the natural wealth of the country, President Tatar emphasized the importance of  the Blue Homeland Turkey for the TRNC and if it is to be an agreement it should happen on a win-win basis.
In his speech, Mehmet Ali Yükselen, Rector of European University of Lefke, thanked President Tatar for his visit, pointing out the importance of the support he gave for the university during and after the Ministry of Finance.