Radio Güven programmer Taner Gönül was the guest of the second of the "Communication Days" event series organized by the Faculty of Communication Sciences of the European University of Lefke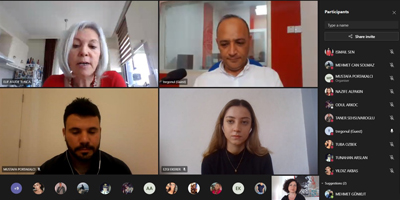 "The Importance of Radio and Radio Broadcasting" was discussed at EUL
Radio Güven programmer and announcer Taner Gönül was the guest of the second "Communication Days" event series organized by the Faculty of Communication Sciences of the European University of Lefke. In the interview held online within the framework of "6 May Radio Day", Gönül touched on important points on radio broadcasting within the scope of radio and public broadcasting. Gönül, who gave important advice to young people who consider radio broadcasting in their career planning, emphasized that the young people who will continue in this field should create added value for themselves, adding diction training to the education they received in the Faculty of Communication and fulfill their voice and ear-focused professions in the most appropriate way.
"Radio is among the most important sources of information"
Radio Güven programmer and announcer Taner Gönül stated that radio is an important mass communication tool that conveys current developments to its listeners and activates the imagination of people with the voice of the announcers, and that the greatest advantage of the audio media against the written media is the voice and what the announcer wants to tell in the radio broadcast. and he stated that he uploaded it to his emphasis and conveyed it to the audience.
"The rate of listening to radio has increased during the pandemic process"
In his speech, Gönül also gave information about the resting rates of radio broadcasting during the pandemic process. Stating that the pandemic caused the number of radio listeners to increase, Gönül said that with this process, people spend more time in their homes and in this context, they have more time to listen to the radio.
"Broadcasts should be made according to the characteristics of the target audience"
Touching on the importance of target audience – audience analysis in his speech, Taner Gönül stated that within the scope of the analysis of the programs prepared on the radio; He emphasized that it should be designed and presented to the audience in line with the characteristics and wishes of the target audience. Gönül said that otherwise, the programs to be prepared would be random and the programs to be presented to the audience would not be distinctive.
"Radio broadcasting will always continue to be important"
Gönül stated that the fact that the mass media tools gain diversity by transforming and developing each passing day does not decrease the importance of radio and stated that radio is a communication tool with many features, especially reliability. Gönül emphasized that Radyo Güven is a public broadcaster and acts according to the principle of "true news – the responsibility of spreading correct information" in its broadcasts.
In the rest of his speech, Gönül also touched on the issues of how a good radio programmer should be, and answered the questions by giving advice to the participating students for their career planning.
"Communication Days" activity program organized by EUL Faculty of Communication Sciences
Interview with Cartoonist Mustafa Tozakı on Tuesday, May 18 at 14:00 – workshop
Interview with Pulitzer Prize-winning Turkish Journalist / Photojournalist Murad Sezer on Saturday, May 22, at 14:00