Social Awareness Project from EUL Students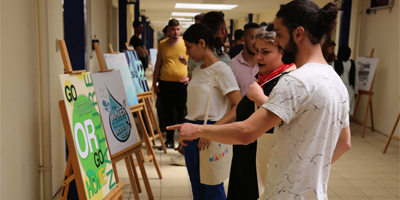 "Clean Society, Good Future" 
Students of European University of Lefke (EUL) Faculty of Communication Sciences organized a social awareness project titled "Clean Society, Good Future" with the leadership of Assist. Prof. Dr. Esra Aydın Kılıç and Instructor Zühre Özer.
In the social awareness project, the students who designed public spots, posters and cloth bags in order to raise public awareness and awareness about climate change and nature protection aimed to raise awareness in line with their goals and contribute to the solution of social and environmental problems.
With the motto "Clean Society, Good Future", the students of Public Relations and Advertising carried out a good teamwork with the mission of being an example in the project that they continued with the participation of Visual Communication Design Department students. Cloth bags, posters and public spots designed by the students were presented at the EUL Cinema Hall. During the event, all the participants were invited to protect the environment and the cloth bags designed by the students were distributed.