Students of EUL conducted a significant event at the Kalkanlı Nursing Home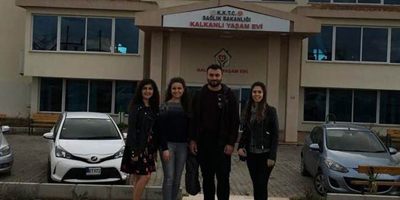 With the project titled "When Serenity Knocks the Door", students of European University of Lefke (EUL) Dr. Fazıl Küçük Faculty of Education Department of Guidance and Psychological Counselling conducted many different activities in Kalkanlı Nursing Home, which included a period of 6 weeks, under the framework of their Community Service Practices course.
EUL students conducted a 6-week project for Kalkanlı Nursing Home
Under the framework of the visiting prject which was held for the residents of Kalkanlı Nursing Home EUL students conducted meeting, catering, entertainment, sports, care, gift distribution and farewell activities.
Students pointed out that their projects had attracted attention and added that "It was a good experience for us to be in touch and make them feel valued instead of getting away from our elders who need love, respect and care as much as their basic care needs, and it was extremely important and meaningful in terms of being beneficial to the environment we live in"
EUL students created awareness about the importance of such visits with the project they carried out and drew attention to the importance of touching their lives with common activities by remembering the seniors at all times.