"The 2nd Kemal Yücel Research Honor Award" presented to EUL Academician Bengisoy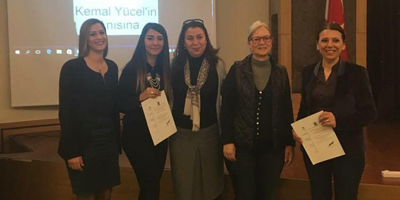 The member of European University of Lefke (EUL) Dr. Fazıl Küçük Education Faculty Guidance and Psychological Counseling Department Lecturer, Assist.Prof.Dr.Ayşe Bengisoy won the "2nd Kemal Yücel Research Honorary Award" contest.
According to Bengisoy, the Association of Cyprus Educational Research (ACER) The 2nd Kemal Yücel Research Honorary Award contest was organized in order to strengthen the added value of education system practitioners and educational informatics researchers and to emphasize the importance of educational research in accordance with the main frame of the founding of the Association of Cyprus Educational Researches (ACER).             Bengisoy stated that the study of "The Effectiveness of Family Education Programs in the Process of Sexual Development of Mentally Disabled Adolescents" have ranked in finals and was awarded.
Bengisoy informed about the study and stated that 20 family members who have children with mental impairment in their research have developed a measurement tool to determine the needs of their children in the sexual development process and to prepare a family education program and to measure the family education program depending on their needs.
Bengisoy noted that the study group consisted of 13-18 year-old child-bearing families with 20 mildly inadequate children who were receiving special education at a Special Education Center affiliated with the Ministry of National Education, Youth and Sports, the Turkish Republic of Northern Cyprus (TRNC). Bengisoy said, "There is only one school in the TRNC in which adolescents with mild mental retardation aged 13-18 years continue to be educated. Due to the absence of other alternative school, only the parents of the adult children in this school were reached and the study group was formed from the parents of the students in this school. 10 participants from 20 families participated in the study and 10 control groups were formed. In this study; Qualitative, quantitative and experimental research methods were assessed. For this reason, the study was carried out in two stages".
Bengisoy said that as a result of the research, families should be aware of the stages of adolescence's physical, mental, emotional and sexual development, what needs to be done to conceive of gender, children's perception of their own and others' privacy, and to make them constructive, to know what sexual abuse and negligence is, and what kind of rights they have in the legal process. In line with these results, a family education program was prepared and it was presented to the families.