The performances of the students at the Date Palm Festival were appreciated by the local people and the participants of the festival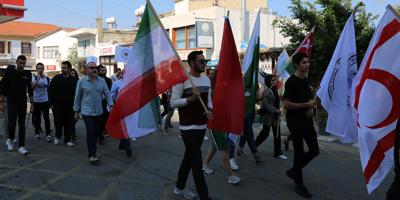 In cooperation with Lefke Tourism Association and Lefke Municipality, a festival was held in Lefke Bandabuliya with the motto "Green Lefke is Calling You" to promote the date palm product and increase its economic value.
EUL student clubs, music group and Latin Dance group embellished the festival 
Academicians and students of European University of Lefke participated in the 10th Lefke Date Palm Festival march. The European University of Lefke supports and participates in many festivals organized throughout the year and within this framework, student clubs, Latin Dance group and music group affiliated to the EUL Directorate of Social Cultural Activities have participated in the festival and performed different performances.
Student performances received acclaim 
The festival began with a march from the Lefke District Governorate by schools and groups in front of Bandabuliya (Bazaar). After the cortege walk in front of Bandabuliya and the opening speeches of the festival, EUL students showed their performances to the busy crowd. The performances of the students were appreciated by the people of the region and the participants of the festival.