The subtleties of photojournalism were discussed at EUL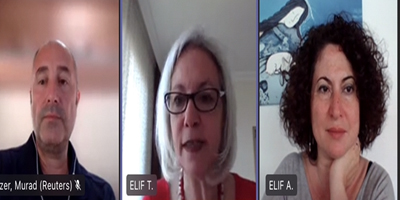 The first and only Pulitzer Prize-winning Turkish journalist Murad Sezer was the guest of the "Communication Days" event series organized by the European University of Lefke, Faculty of Communication Sciences.
Murad Sezer, Turkey Photo Editor of Reuters News Agency and the first and only Pulitzer Prize-winning Turkish journalist, was the guest of the "Communication Days" event series organized by the Faculty of Communication Sciences of the European University of Lefke. In the online interview, Murad Sezer shared his photojournalism experiences and views and made important statements on the changing understanding of journalism in the changing world.
Murad Sezer, who graduated from Istanbul University School of Press and Public Relations Department of Journalism and Public Relations in 1992, started his career as a sports photographer. In 2004, he won the Pulitzer Prize in the category of "Breaking News Photography" for the photograph he took in Fallujah while working at the AP.
At the event organized by the EUL Communication Faculty as part of the Communication Days; Murad Sezer, who started by stating that news photography is the most difficult part of journalism, said; He emphasized that while it is possible for the writer of the news to make up, report and narrate the missed moment or the news that was not visited, there is no compensation for the photojournalist not being in the right place at the right time and missing that moment.
"It is useful to work before you go, to know where and why you are going"
Noting that he has been a news photographer for more than 30 years, Sezer said, "But I still go to a news story on my way to work – maybe because of my personality, I go with the excitement of the first day and I always go with a preliminary preparation. Because we don't know when we will face what. Even if you are very knowledgeable, very talented, you may fail due to a little distraction or technical problem, you may miss the photo.
Emphasizing that it is necessary to prepare for the events attended as a photojournalist and do research beforehand, Sezer also tells about the evolution of photojournalism, Murad Sezer said that in the past, photojournalists in Turkey were seen as the person who was sent to work alongside the reporter and took pictures as the reporter wanted, and this view still continues today. He stated that there is a job description in the international media and that everyone does their own job.
"Winning the Pulitzer Prize was a good, motivating memory"
Murad Sezer, who won the Pulitzer Prize in the "Breaking News Photography" category with the photograph he took in Fallujah, Iraq in 2004, when asked about the shooting story of the photograph and how the award he won has affected his life, said, "It was a success, but also a great responsibility. or I'm sorry for making mistakes, I didn't have an exceptional situation."