Visit by Lefke Tourism Association to Yükselen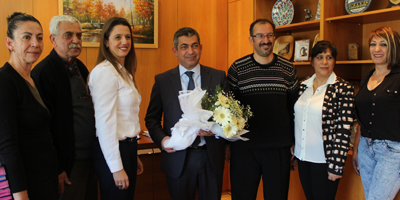 Lefke Tourism Association President Hasan Karlıtaş and members of the board of directors visited European University of Lefke (EUL) Rector Prof. Dr. Mehmet Ali Yükselen.
First of all, appreciations were forwarded to Yükselen for accepting the board, Karlıtaş informed about Lefke Tourism Association and stated that it was founded in 2010 with the aim of promoting the historical, cultural and natural values of Lefke, introducing it to future generations. Karlitas, who expressed that he supports all kinds of festivals organized in the region, "Lefke needs to stand out with tourism, education and production", reminded that Lefke also was granted the Cittaslow title and emphasized that it is very important to set close cooperation with the most important institution of the region- EUL.
Stating that the Tourism Association is one of the most active associations in the region, Yükselen expressed that they are trying to provide equal support to all civil society organizations in the region as a university and to support the university within the framework of its facilities. "In this context, cooperation with you is a win for us," said Rector Yükselen, thanking the association's administrative board for their visit and wishing the success of the association in the new period.
After the visit, flowers were presented to the Rector Yükselen by the association's board of directors.