Sports Complex
Department of Health and Sports Activities and modern sports complex established within the body of European University of Lefke aim at providing students, academicians and administrative personnel with the opportunity to have a healthier and active life style, enriching the campus life, and making everyone has the abilities that can be used lifelong with the help of regular sport activities and physical fitness programs.
Students can join various sport activities held at the University.  Both the performance sportsmen and the ones who want to improve themselves in a certain type of sport can benefit from the facility with the assistance of the experts from the Department of Health and Sport Activities. The Department of Health and Sport Activities is situated in the Dr. Fazıl Küçük Sport Complex.
Our activities are broadened thanks to the foundation of the EUL Sports Club in 1991 and the sports competitions held both by TRNC and Turkish Sport Federations. 
After the opening of Dr. Fazıl Küçük Sport Complex in 2007, it became possible to have access to different types of sport activities and it provided the opportunity to be more engaged in those activities for our students and personnel.
Basketball
Football
Voleyball
Table Tennis
Darts
Badminton
Tennis
Cricket
Chess
Athletics
Futsal
The University also provides Sportsman Scholarship for the students who are successful in sport activities.
General Information Dr. Fazıl Küçük Sports Complex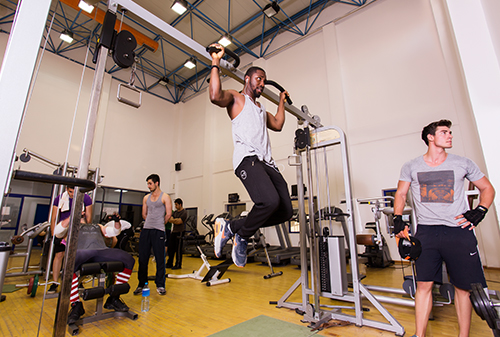 Main Hall (of high standard and well-equipped enabling to hold any indoor sports activities)
Fitness Centre
Free Weight Centre (GYM)
Squash Hall
Studio 1 (Step, Aerobic, Dance)
Studio 2 (Tae kwon do-Judo, Wrestling, Dance, Table Tennis)
Open tennis courts
Synthetic Football Pitch
Open Basketball Fields
The tennis courts and the Astroturf football pitches have to be reserved a day before from the Physical Education and Sports Centre. All reservations require a student or staff ID.
Opening-Closing Hours
Closed Sports Hall:
Monday-Friday: 08:30-21:00
Saturday: 14:00-19:00
Open air tennis courts:
Monday-Friday: 08:30-21:00
Saturday: 14:00-19:00
Astroturf football pitches:
Everyday 10:00-24:00