Sports Facilities

European University of Lefke aims at providing students, academicians and administrative staff an opportunity to have a healthier and active life style, enriching the campus life, and encouraging everyone gain the abilities that can be used lifelong with the help of regular sport activities and physical fitness programs. Students can join various sport activities held at the University. The University also provides Sportsman Scholarship for the students who are successful in sport activities. The University Sports Facilities are as follows:
Swimming Pool (Swimming)
Fitness Gyms ( Fitness Gym and Free Weight Gym)
Indoor Sports Court (Multi Purpose Court) ( Basketball, Volleyball, Futsal, Handball)
Indoor Sports Court (Studio I) (Table Tennis, Dance)
Indoor Sports Court (Studio II) ( Aerobics and Step, Combat Sports)
Indoor Squash Sport Court (Squash)
Outdoor Sports Courts ( Tennis and Basketball)
Outdoor Sports Pitches (Synthetic Turf Football Pitches)
Athletics Track ( Running, Jumping, Throwing Events)
Multi-use Sports Pitch ( Football, Cricket, and other outdoor sports)
Stadium (Football )
Click on the link to visit the facilities' photo gallery: 
General Information Sports Complex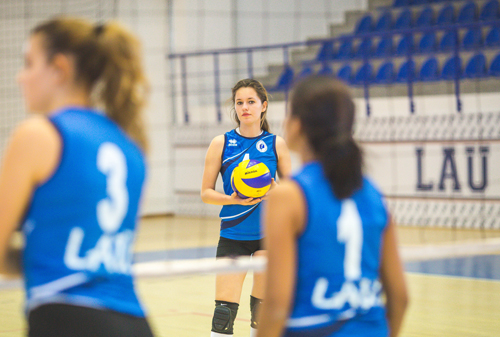 Main Hall (of high standard and well-equipped enabling to hold any indoor sports activities)
Fitness Centre
Free Weight Centre (GYM)
Squash Hall
Studio 1 (Step, Aerobic, Dance)
Studio 2 (Tae kwon do-Judo, Wrestling, Dance, Table Tennis)
Open tennis courts
Synthetic Football Pitch
Open Basketball Fields
The tennis courts and the Astroturf football pitches have to be reserved a day before from the Physical Education and Sports Centre. All reservations require a student or staff ID.
Opening-Closing Hours
Closed Sports Hall:
Monday-Friday: 08:30-22:00 Saturday: 10:00-20:00
Open air tennis courts:
Monday-Friday: 08:30-22:00 Saturday: 10:00-20:00
Astroturf football pitches:
Everyday 10:00-22:00
Photo Gallery