"Central Asia Night" held at EUL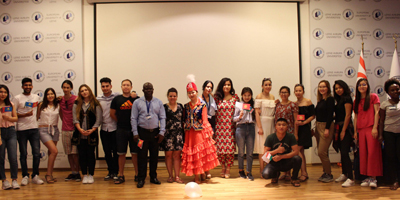 "Central Asia Night" was held at EUL by European University of Lefke (EUL) Student Deanery for the students of Asian origin studying at EUL. Staff of EUL Office of Students' Dean and Directorate of Publıc Relations and students attended the event which was conducted under the frame work of International Events.
Central Asian Countries came together with the event
With the event, students from Central Asia countries Kyrgyzstan, Kazakhstan, Turkmenistan, Uzbekistan and Tajikistan come together. Within the framework of the event, cultural dishes of the countries of Central Asia, dance shows and similar concepts were shared, and the differences and similarities of different cultures were introduced.
Students performed cultural music and dance performances
Students who exhibited cultural music and dance performances also informed the participants with a video demonstration of the natural, cultural, historical and tourist attractions of Central Asia.
Central Asian students have been given the opportunity to spend a pleasant night in the ongoing program, and food and drinks were offered to those attending the event in the accompaniment of country-specific music.