EUL Academician Alas discussed "The Impact of the Pandemic on Agriculture"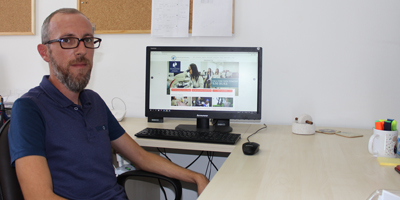 European University of Lefke (EUL) Faculty of Agricultural Sciences and Technologies Faculty Member Asst. Prof. Dr. Turgut Alas gave information about the "Effect of the Pandemic on Agriculture".
Stating that Covid-19 has continued to affect the world economy negatively since 2020, Alas stated that the agricultural production and agricultural exports of many developed and developing countries have also been adversely affected. "For example, when we compare 2019 and 2020 January and February in China, where the pandemic started, we see that exports decreased by 17.2%. The risk of seeing similar examples in agricultural production, export and seed needs in the coming period is very high. In this period, when free movement took a big hit, many basic needs and especially the circulation of food around the world (import-export) were adversely affected. In this period, there may be no difficulties in accessing compulsory consumption goods in countries that produce their own foodstuffs, but it has a mission," said Alas, and mentioned that developing countries experience the negative effects of the pandemic more severely than developed countries.  Stating that countries have started to take their own precautions by making new arrangements in their exports and imports, Alas said, "For example; Russia, one of the world's important wheat producers, stopped its wheat export at the beginning of the pandemic. In this way, it aimed to meet the possible food needs that may arise due to the uncertainty about how long the epidemic will last. Likewise, in this process, the export of some products (onions, potatoes and lemons) in Turkey was subject to a special permit".
Stating that studies examining the effects of the current crisis on low-income countries indicate that food security problems may be more serious in the coming period than in the past, Alas said, "There are two main theses on which these estimates are based; The first is to focus on the damage caused by general structural problems and inequalities in world agriculture and food supply in different countries and vulnerable social groups, and the second is to focus on protectionist policies that have become more common in the current epidemic conditions.
Alas: Covid-19 has shown us how important local production, safe food supply and self-sufficient food production are.
In addition to the disruptions in global supply chains, the deepening of the protectionist tendencies that have been on the rise since 2008 and the problems that this situation has created / will create are among the most discussed issues, Alas continued as follows; "We see a similar export ban imposed by Russia in grain products in Kazakhstan, Thailand and Cambodia, and in rice exports in Vietnam. As of April 2020, a total of 20 countries imposed restrictions on exports of agricultural products to consolidate their stocks and keep domestic prices low. On the other hand, other unexpected supply-related problems arose in countries with a high share of agricultural exports. For example, there was a decrease in the export of fresh vegetables and fruits from India. Likewise, cherries exported from Chile to China had to wait a long time at ports in China. All these indicate that countries that can produce self-sufficient food and raw materials will be more advantageous, and those who depend on imports for their basic needs will experience a much more risky and difficult process than today." Alas stated that when all these are considered, it is possible to say that there will be changes in people's consumption habits, that countries will have to develop new policies on food safety and access to healthy food, and that giving priority to local production will gain great importance. It also showed how important local production, safe food supply and self-sufficient food production are."