EUL Architecture Faculty meeting event called 'starting the design journey' was held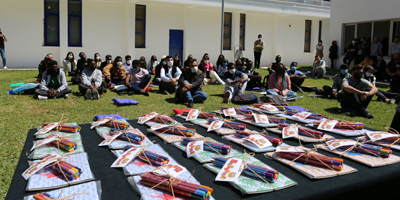 The European University of Lefke (EUL) Faculty of Architecture organized a meeting event called 'starting the design journey' with new students from different design departments.
Delivering the opening speech at the event, Dean Prof. Dr. Lerzan Aras gave the following advice to the students:
"Design is a long journey. Sometimes it may seem difficult, but it is fun. You realize that you learn something every day, you learn to see what you are looking at with a different eye than you are used to. In this process, we will embark on this journey with you. Consider the era when a dragon was just an egg. You are starting this training at that point right now. You will learn, improve day by day and become designers who make great designs. When your education is over, you will become colorful, perfect, strong and fascinating, just like the dragon in fairy tales. Believe in yourself and what you can achieve and never stop working and designing."
After Aras's speech, all faculty members introduced themselves and wished the students success in their education life. At the end of the meeting, sets consisting of colored drawing pencils and sketchbooks, which are the most basic parts of design education, were presented to the students.