EUL has a Curriculum and a Modern Kitchen that meets the necessities of the time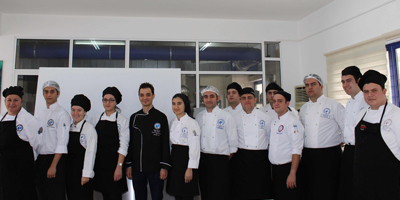 EUL's Department of Gastronomy and Culinary Arts is on the right track
European University of Lefke (EUL) School of Tourism and Hotel Management Department of Gastronomy and Culinary Arts continues to give sprit to the sector and its students with its acknowledged expert academicians and modern kitchen.
Giving information about the department, Assist. Prof. Dr. İlker Türkeri, Head of Department of Gastronomy and Culinary Arts pointed out that they are proud with the increasing interest shown to the department in the 2018-2019 Academic Year. Türkeri also stated that they are working hard to meet the interest and demand in the best way and to provide the qualified labor force needed by the sector.
EUL students closely follow world gastronomy literature
Türkeri stressed that they closely follow the world gastronomy literature with the education-teaching curriculum implemented by EUL and added that the way of the countries and regions that contribute to the development of gastronomy at the universal level is through the EUL Gourmet Application Kitchen. Türkeri also stated that, Gourmet Application Kitchen not only teaches the theoretical and practical educational activities of the world cuisine with a variety of flavors, but also offers the opportunity to the students of presenting their knowledge in different styles with their creativity.
Our students represent us in international competitions
Türkeri said that, "It is a fact that our students, who have sufficient competence in their fields, make us proud with their achievements in national and international gastronomy competitions", and added that in the past years students of Department of Gastronomy and Culinary Arts were placed in successful ranks in the International Golden Cap Cookers Competition and International Gastronomy Festival. Türkeri also pointed out that in the 2017-2018 academic year, the students have returned with trophies and medals from Turkey and Serbia and added that, "These proud achievements show that the Department of Gastronomy and Culinary Arts is on the right track in education and training".