European University of Lefke Faculty of Communication Sciences, commemorated the famous Kyrgyz writer Cengiz Aitmatov, who passed away on 10 June 2008; with the panel they organized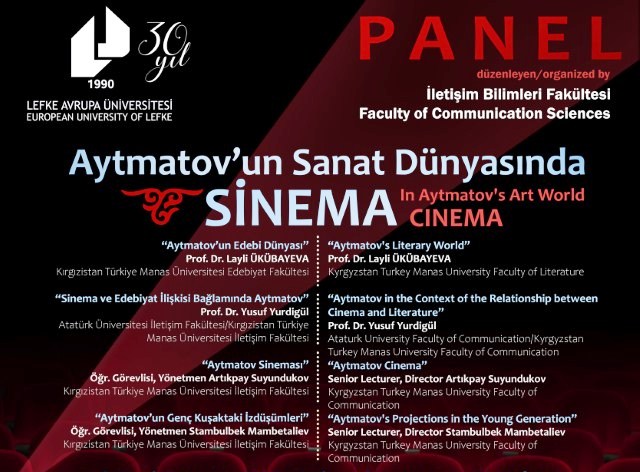 "Cinema in Aitmatov 's Art World"
European University of Lefke Faculty of Communication Sciences organized a panel themed "Cinema in the Art World of Aitmatov ". Kyrgyzstan Turkey Manas University (KTMU) Faculty of Communication and Literature and Atatürk University Faculty of Communication faculty members attended the panel where the literary and cinema world of the famous Kyrgyz writer Cengiz Aitmatov was discussed. The first speaker of the panel, became Prof. Dr Layli Ukubayeva, in which 4 panelists participated with 4 different topics,
Aitmatov: "The most difficult thing for a person is to be human every day"
In her speech themed " Aitmatov 's Literary World" Prof. Dr. Ükübayeva touched upon the language and themes in Aitmatov 's stories and novels, that the main thing in the Soviet period was to reflect the Soviet ideology, and Aitmatov in his works told human psychology with a mastery that all people could understand, without opposing this understanding, on the contrary, all over the world. Stating that Aitmatov's works reflect the nature, structure of animals and Kyrgyz culture as well as human psychology and analysis, Prof. Dr. Ükübayeva reminded Aitmatov's words 'the most difficult thing for a person is to remain human every day' and 'every person is forgotten when they are not remembered' and said, "The more we remember Aitmatov, the more we talk about him and pass it on to future generations, he continues to live with us. will," she said.
"Aitmatov in the Context of Cinema-Literature Relationship"
The second speaker of the panel, Kyrgyzstan – Turkey Manas University and Atatürk University Faculty of Communication Faculty Member Prof. Dr. Yusuf Yurdigül started his speech about "Aitmatov in the context of the cinema-literature relationship" by stating that literature and cinema are a means of expression. Stating that cinema is a narrative tool in a very short and concise manner, Yurdigül said that literary works have been adapted to cinema since the first time of cinema, and in this context, many of Cengiz Aitmatov's works have been transferred to cinema. Aitmatov stated that elements such as Kyrgyz motifs, bozüy, horse and wolf are used symbolically in the cinematography, which Aitmatov includes in his works, which have been adapted into joint films of Kyrgyzstan, Turkey, Uzbekistan, Turkmenistan, Kazakhstan, Tajikistan, Germany, USA, France, Kazakh-Kyrgyz. He said that he enabled Kyrgyz cinema to open to festivals.
Suyundukov: "Censorship is very necessary for artists"
Speaking about "Aitmatov Cinema", the famous Kyrgyz Director and Kyrgyzstan – Turkey Manas University Lecturer Arkanpay Suyundukov stated that Aitmatov's first works are very close to the language of cinema, and that there are many poems in Aitmatov's works, it is very difficult to transfer these poems to the language of cinema and to shoot well. noted that. Stating that Aitmatov approached filmmakers and filmmakers approached Aitmatov, Arkpay Suyundukov said that his personality, greatness and depth in literature were also transferred to cinema, that the language of poetry in his works was reflected in the cinema, and that his ideas were reflected in the cinema during the period of the Cinema Union, which Aitmatov was the president of for 25 years. noted that it was reflected by the filmmakers.
Suyundukov said that before Aitmatov there was a lot of politics in Kyrgyz cinema, together with Aitmatov, Kyrgyz cinema changed, the language of cinema entered the movies, and Kyrgyz ideas, Kyrgyz epic, philosophy and Turkish customs began to be used a lot. Noting that Aitmatov had his own childhood and life in his works and that these were reflected in the cinema, Suyundukov stated that Aitmatov was very broad-hearted and said, "He never put any pressure on filmmakers and screenwriters. 'Whatever you think is right. I wrote that piece. That piece of work is another piece of cinema. He would say, 'I don't want to interfere with your business, your gaze… This is a very big man character.
Upon a question, Suyundukov stated that Soviet cinema was powerful and that censorship had an effect on it, and that censorship was necessary for artists because at that time he thought how the artist would give ideas that were not allowed, and that the filmmakers conveyed the censorship to the audience with elements such as metaphor, symbol and music.
Mambetaliev: "Aitmatov is cross people, religious beliefs, culture…"
The last speaker of the panel titled "Cinema in Aitmatov 's Art World" organized by EUL Communication Faculty, one of the young generation directors of Kyrgyzstan and KTMU Lecturer. The director was Stambulbek Mambetaliev. In his speech on "Aitmatov's Projections in the Young Generation", Mambetaliev stated that Aitmatov was not only a writer, but also a philosopher, sociologist, and historian, and said, "When you read Aitmatov's works, you draw the film, while reading the film becomes ready."
Mambetaliev, who also stated that it is necessary to understand his philosophy before Aitmatov, said, "Aitmatov is interpersonal, interreligious, intercultural. He has a global view, not just a rural one. He is a person who can see the past, the past and the future. We see what he saw at that time, he saw it and reflected it in his works", adding that Aitmatov sheds light on the youth today and is a guide.