Interview on "Interdisciplinary Designs" held at EUL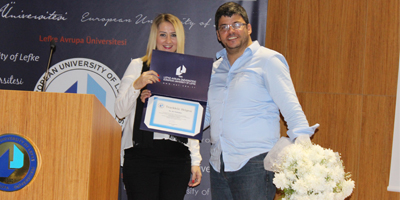 European University of Lefke (EUL) Faculty of Architecture Department of Graphic Design organized an interview themed "Interdisciplinary Designs". Innova Digital Media Agency's Director Ali Tüzünkan participated in the interview which was held at the EUL Faculty of Law Conference Hall as a speaker.
Tüzünkan: Artistic and aesthetic concern is a very important thing
Tüzünkan said that "While working as a digital agency, we have worked with many designers to understand the world of design and to do good things and this yielded interesting results" and emphasized the importance of leaving traces while working with designers. Tüzünkan further stated that "Artistic and aesthetic concern is a very important thing. Yet, if there wasn't a such concern, designers would be unnecessary in this field" and added that aesthetic concern have been in existence since the first days of the history.
Tüzünkan said there is a need for design because people have some expectations, and he said that the need is a clear transmission of messages to the other side. He further said that "Our business is involved in the Department of Graphic Design and Visual Communication Design, our business mainly covers social media and digital advertising" and added that the main concern is to deliver the visual message to the other side. Tüzünkan said that "While some designers convey the message across a visual form, there are mainly those who focus on the message, which I consider to be good designers. Some friends consider the design as just the harmony of colors" and added that he has conducted a research on what is really the infrastructure of this and added as a result of his research he has met with a principle and stated this principle as a forum function.
Tüzünkan: Design is the functionalized version of the forum.
Pointing out that main concern is to functionalize, Tüzünkan said that "We need to know which function the design is doing. So that design has a function, and what is the function there is very obvious". Tüzünkan said that if the design is a peaceful, happy home or library provided providing an environment in which people can work in a calm and concentrated manner, and the aesthetic concerns on it provide a form around this function and added that "This form can beautify it and increase the pleasure we get here. Design is the only the functionalized version of the forum".