Pakistan Culture Night Celebrated at EUL with Enthusiasm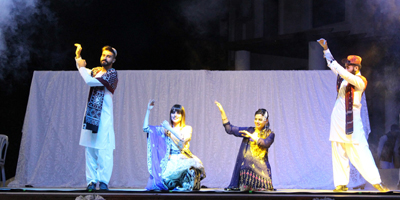 Pakistani students of EUL came together at the "Pakistan Culture Night" organized by the European University of Lefke (EUL) Social and Cultural Activities Centre.
Under the framework of the event which was held at the EUL Plaza with intense participation, different presentations were held about the tourism, culture, dishes, and national days of Pakistan. In addition, shows, dance performances and music performances unique to Pakistan were watched with interest by students from EUL.
Students living the happiness of coming together in Pakistan Culture Night expressed their feelings and thoughts as follows:
Tauseef Tanwat: I am a student of Tourism Management Department. It was an event that allowed Pakistani students to promote their culture. At the same time, other foreign students at the university were informed about our culture. It is a great opportunity to introduce our country and culture in our university where there are many students from different countries.
Armaghan Zahıd: It was a nice event where our friends enjoyed and had a fun time. With such activities, students get a little bit away from the stress of lessons and exams and this is motivation for us.
Abdul Raheem Tarıq: I'm a student in Software Engineering. If you study in another country, you need to introduce your own culture to meet other people and to coalesce. Such activities allow students from different countries to get to know each other. The easiest way is to recognize cultures. I would like to thank EUL for supporting such events.
Maha Maryam: I'm a student at the Department of Civil Engineering. The organization and everything is perfect and this is an amazing event. It is a great feeling to introduce your own country and culture in another country. Thanks to this activity, we felt like we were in our own country.