Successful Sports Person Sinan Engin at EUL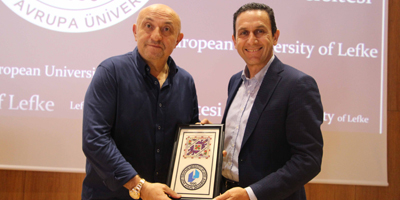 Under the framework of European University of Lefke (EUL) Spring communes, sportsperson/author and commentator Sinan Engin was a guest of EUL.
Engin: EUL is very nice in terms of location and we had a pleasant conversation with the students here today
Former player of Beşiktaş and football commentator Sinan Engin thanked the Beşiktaş Fan Club and other participants, said that they can ask whatever they want and expressed that he is very glad to be together with the EUL students.
Engin: After choosing Beşiktaş, it became an inseparable part of my life
In the interview which was shaped by the questions of students, Engin answered "Why Beşiktaş" question as, "Beşiktaş is a part of my life since childhood, and it is a completely different concept for me. After choosing Beşiktaş, it became an inseparable part of my life". Engin who hosts a football program in Beyaz TV said that, "Sometimes I can be too fanatic about Besiktas and sometimes I have heavy criticism about the referees when I do not have the right. Actually, I do not have to do this, I have be objective there. But sometimes I go along with Beşiktaş's fanaticism.".
Making comments about the penalty given to Arda Turan, Engin said that the penalty given to Arda is a very heavy punishment and that this a kind of penalty that can finish the football life of a football player. Engin also said that, "The questions are, what did Arda do, that was so serious, or does the referees administer the matches so honestly that we are all satisfied? No. Arda's reaction was wrong. But if it wasn't Arda doing this, this wouldn't have happened", and added that this decision was completely related with the background of Arda.
While the excitement of fans about the Presidential Election of Fenerbahçe is still on going, Fenerbahçe Fans asked Engin who will win the competition between Ali Koç and Aziz Yıldırım. Engined answered this question as, "I believe that Ali Koç has more chance in this competition".
Engin gave some recommendations to students and took souvenir photos with them. At the end of the interview, interview a plaque which reflected the Cyprus Culture was presented to Engin by General Secretary Mehmet Yalçın.