Awareness event from EUL Special Education Club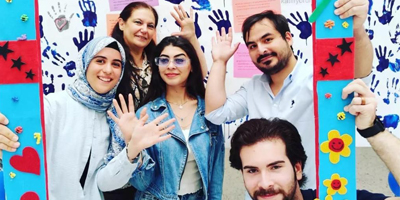 Autism Spectrum Disorder awareness event was organized by the Special Education Club affiliated to the European University of Lefke (EUL) Social Cultural Activities Directorate.
In the Autism Spectrum Disorder awareness event prepared by the Special Education Club, students from all education fields participated in the event with the awareness that they will include more conscious treatment interventions in their education by understanding the perception, cognition and emotional states of students with Autism Spectrum Disorder in their future professional life.
Students who did handprinting activity gained awareness
Those who participated in the awareness event had more information about Autism Spectrum Disorder through the informative short texts on the posters. They also became conscious by seeing some examples of important adaptations to be made during the training. With a perspective that understands people and values individuality, Students who held a hand-printing event in Dr. Fazıl Küçük Education Faculty gained awareness.