Theater Artist Hatice Tezcan met with students at EUL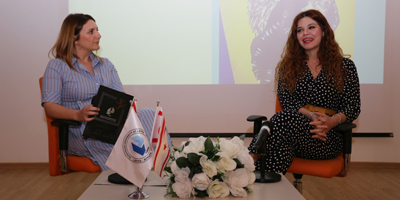 Within the framework of the talk program on "Children and Theatre" organized by the European University of Lefke (EUL) Preschool Education Department, Nicosia Municipality Theater, Theater Artist Hatice Tezcan was the guest of EUL.
In the talk show, Hatice Tezcan, who has been working at the Nicosia Municipality Theater for many years, stated that her interest in children's theater started in the early years of her career and she felt the need to take responsibility for delivering theater to children.
Tezcan "Children's games should be handled sensitively"
Emphasizing the importance of introducing children to theater at an early age, Tezcan stated that children's plays should be handled sensitively and plays that are pedagogically suitable for children should be brought together with them. Tezcan also stated that children's games are more difficult than adult games, contrary to popular belief, and drew attention to the fact that they rehearsed for some games for months.
"The message to be given in children's games should not be advising"
Tezcan emphasized that the message to be given in children's games should not be advising and emphasized the importance of reflecting the situations that children should learn from games in a concrete way. In addition to all this, she mentioned the importance of interaction with children in plays and stated that children's communication with the stage and actors is also a part of the nature of children's plays.
Tezcan finally said, "It is very important for people who will work with children and those who write and play children's games to be sensitive towards children and take their work seriously. In this context, I believe that bringing children together with quality games will be beneficial for them."