Commemoration program held at EUL on the occasion of "December 21-25 National Struggle and Martyrs Week"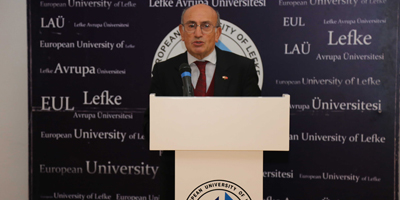 European University of Lefke (EUL) Faculty of Arts and Sciences Department of History organized an exhibition themed "Dramatic Traces of Bloody Christmas" and a film demonstration themed "The Lost Bus" on the occasion of December 21-25 National Struggle and Martyrs Week.
The event started after a moment of silence, National Anthem, opening speech of the Head of the EUL Department of History and the demonstration of documentary titled "The Lost Bus".
Tayhani: The longing for Enosis is not over yet
In his speech Tayhani pointed out that in 1960 a common state was established between Greeks and Turks and added that despite the establishment of the republic, the Greek Cypriots' longing for Enosis did not end. He also said that on December 21, 1963, the AKRITAS plan for ethnic cleansing, which was prepared by President Makarios, Parliament Speaker Clerides and Interior Minister Yorgacis, was put into practice and the painful days for Turkish Cypriots started with the killing of civilian people in Nicosia and later in different regions.
"To know the history of Cyprus well, you should visit the 'Barbarism Museum"
Tayhani underlined that the Turkish Cypriot community suffered great pain during the 11-year period that started from December 21, 1963 to the July 20, 1974 Happy Peace Operation and continued that many villages were under attack, hundreds of people were killed, thousands were injured, and innocent people became immigrants as a result of these.
The Lost Bus moved the audience  
Following the speech, the documentary "The Lost Bus" which was about 11 people who were working at the British bases and were lost on May 13, 1964 was screened.
After the commemoration program, an exhibition titled "Dramatic Traces of Bloody Christmas" was initiated at the EUL Rauf Raif Denktaş Educational Complex.