"16. International Primary Teacher Education Symposium (ICTS 2017) hosted by EUL"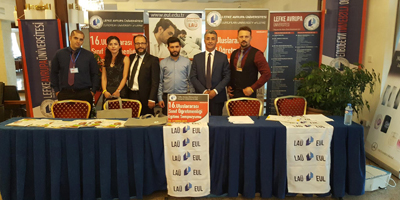 Four hundred and seven papers were presented
"16. International Primary Teacher Education Symposium (ICTS 2017) was realized under European University of Lefke (EUL) Dr. Fazıl Küçük Education Faculty.
The 16th International Primary Teacher Education Symposium, which was held for the first time in the Turkish Republic of Northern Cyprus (TRNC), has been held 15 times by education faculties of different universities in Turkey since 1994 and has achieved an important respect in terms of scientific quality and professional value .
Dr. Fazıl Küçük Education Faculty Dean Prof. Dr. Oguz Serin initiated the symposium which took place at the Acapulco Congress Center, with an opening speech.
"Our university educates its students with this vision, especially as they follow educational programs that take into account globalization and the dynamic and ongoing nature of the information society and offer learning environments that allow students to develop as required, inquisitive and inquiring individuals in the teaching profession," Serin said.
Following the opening speech, Head of EUL Dr. Fazıl Küçük Education Faculty Special Education Teaching Department Prof. Dr. Dr. Ayşegül Ataman  discussed: "I have a fast learning student in my class" and Gazi University Faculty of Education Primary Education Department Head Prof. Dr. Hayati Akyol made his speech on "Primary School Teaching and Problems".
During the four-day symposium, where academics, teachers and students working in this field shared scientific work, practices and experiences related to classroom teaching and primary school education, there were numerous social activities as well as oral presentations, panels, workshops. A total of 407 oral presentations, 5 panels and 12 workshops were held at the symposium. Within the panel, workshop and oral presentation activities under ICTS 2017, classroom teachers and other educational leaders were presented with powerful findings that would solve the problems in our education system and increase productivity.