"55th Library Week" activities were held at EUL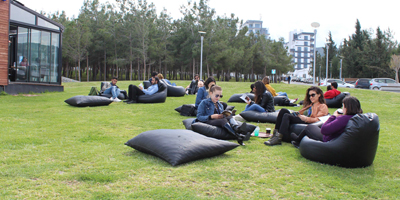 Within the scope of the events organized for the "55th Library Week", exhibitions, film screenings, kite festivals and book-reading activities were carried out by European University of Lefke (EUL) Centre of Social and Cultural Activities and Compass Library Club with intensive participation at the EUL campus.
"55th Library Week" activities started with the exhibition titled "Çanakkale War with Photographs" opened at Ertuğrul Apakan Library. On the other hand, within the scope of Library Week, film screenings of "Dead Poets Society" and "The Kite Runner" were held in the EUL Cinema Hall.
In another activity, a book reading event was organized at the EUL campus in order to gain the habit of reading and to create awareness. Library week activities concluded with the Kite Festival which took place on the grass field of the Faculty of Law. The festival was attended by children from the region and university students. Colorful images appeared on EUL campus where many kites were flying. The book was given to the student who flew the best kite to promote the habit of reading.