A conference on "Metabolic Syndrome" was held for EUL students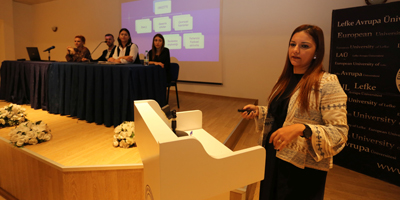 A conference on Metabolic Syndrome was held by the Department of Nutrition and Dietetics at the European University of Lefke (EUL), Health Sciences Faculty.
In the conference in which the opening speech was made by the dean of the faculty, Prof. Dr. Hüseyin Oğuz, department lecturers gave presentations on the Metabolic Syndrome Tano criteria and Obesity, Biochemical Overview of Metabolic Syndrome, Cardiovascular Diseases, one of the Gold Components of Metabolic Syndrome, Diabetes, one of the Gold Components of Metabolic Syndrome, and the Relationship between Metabolic Syndrome and Phytochemicals.
Asst. Prof. Dr. Nazal Bardak Perçinci, head of department who stated that an intense and interactive conference was held with the participation of department students, also emphasized that it would be right to define metabolic syndrome as a combination of overweight, fat-cholesterol metabolism disorders, high blood pressure and sugar metabolism disorders (hidden sugar problems), which prepares the formation of cardiovascular diseases and diabetes. Moreover, she added that there are many tasks in maintaining ideal body weight.