A seminar on Current Approaches in Cardiac Surgery and Cardiac Rehabilitation was held at EUL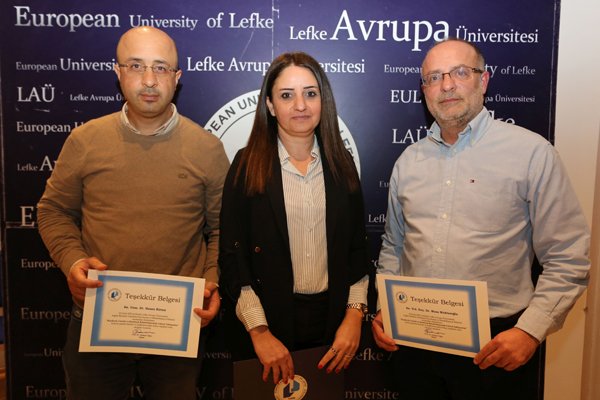 Op. Dr. Hasan Birtan was the guest of EUL
A seminar on "Current Practices in Cardiac Surgery and Cardiac Rehabilitation" was held by the European University of Lefke (EUL) Physiotherapy and Rehabilitation Department.
Burhan Nalbantoğlu State Hospital Cardiovascular Surgery and Deputy Chief Physician Op. Dr. Hasan Birtan and EUL Physiotherapy and Rehabilitation Department faculty member Asst. Prof. Dr. Musa Muhtaroğlu attended the seminar in which was moderated by EUL faculty member Assoc. Prof. Dr. Beliz Belgen Kaygısız.
The opening speech of the seminar was made by EUL Faculty of Health Sciences Dean Prof. Dr. Huseyin Oguz. As the first speaker, on Current Approaches in Cardiac Surgery, Op. Dr. Hasan Birtan first gave information about the birth of cardiac surgery and then the current practices in the field of cardiac surgery both in our country and in the world.
Muhtaroğlu, the importance of cardiac surgery is increasing 
Asst. Prof. Dr. Musa Muhtaroğlu gave information about Cardiac Rehabilitation Practices in the world and in our country. He explained how important cardiac surgery is in current scientific studies and its importance is gradually increasing. He gave examples about current treatment practices in cardiac surgery.
EUL Physiotherapy Department students, faculty members and many graduate physiotherapists attended the event. At the end of the event, Faculty Member Assoc. Prof. Dr. Beliz Belgen Kaygısız thanked the guest speakers for their participation and