Academic Performance Award Ceremony held at EUL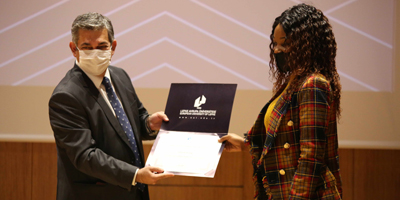 European University of Lefke (EUL) organized an "Academic Performance Award Ceremony" for its students who showed outstanding academic success in the Spring Semester of 2019-2020
The awards were presented to the students who showed outstanding academic success in Faculties and Schools at a ceremony held in the Faculty of Law Conference Hall. To the ceremony; EUL Rector Prof. Dr. Mehmet Ali Yükselen, Vice Rectors Prof. Dr. Carolina Smochina, Prof. Dr. Akın Cellatoğlu, Prof. Dr. Sadık Ülker, faculty deans, faculty members and students attended.
Yükselen: During the pandemic process, our students were provided with the best educational opportunities.
Speaking at the opening of the ceremony, EUL Rector Prof. Dr. Mehmet Ali Yükselen stated as "I would like express  once again that, to we are going through difficult times in our country as in the whole world due to the global pandemic" and said, "In this difficult period, we are working very intensively to fulfill all our responsibilities towards our students as EUL.". After the announcement of the decision to continue education in the form of distance education due to pandemic conditions in the last academic year, Yükselen stated that all the necessary infrastructure and preparations were completed in a very short time by the relevant units of the university and that the courses continue from the point where they remained before the pandemic in the form of digital distance education. During the period, the necessary infrastructure investments were made in advance and a gradual and diluted face-to-face education model was adopted, supported by distance education tools within the conditions allowed by the pandemic ". In the continuation of his speech, Yükselen thanked all academic and administrative staff for providing the students with the best educational opportunities in this process.
Yükselen: I congratulate our students on their outstanding achievements
"Our university, which is celebrating its 30th year in education, provides education opportunities and hosts more than 10 thousand students from 83 different countries. Yükselen said that "despite all the difficulties created by the global pandemic, you have achieved outstanding academic success by working hard ", and congratulated the students for their success. In the continuation of his speech. Yükselen said; "We are proud to present you the 2019-2020 Spring Semester outstanding academic achievement awards at the ceremony held today. You have earned these awards by working hard and I congratulate you all for your outstanding success ".
The ceremony ended with the presentation of certificates and awards to the students by the university administration.