Academician from EUL takes the first step in Cyrus Aviation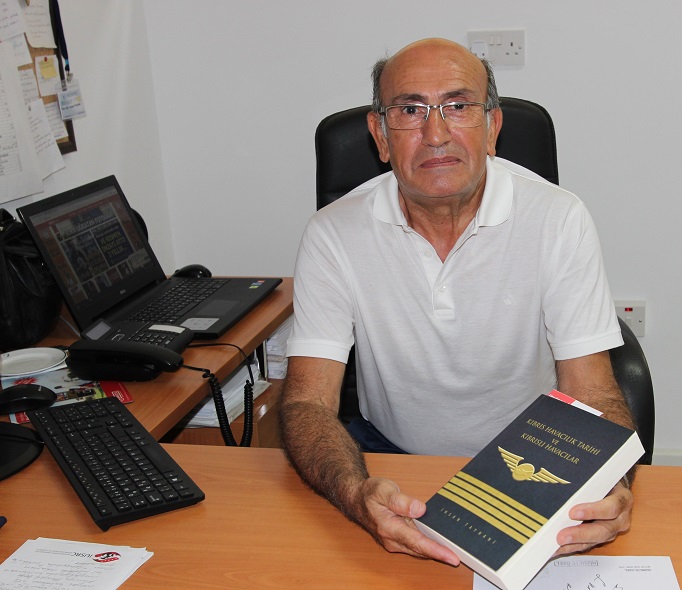 A book on Cyprus Aviation History and Cypriot Aviators published
The Chief of the History Department, Faculty of Arts and Sciences, European University of Lefke Assoc. Prof. Dr. İhsan Tayhani has published a book themed "Cyprus Aviation History and Cypriot Aviators" that he has been working on for nearly six months.
Tayhani gave information about his book and pointed out that since the book is a first to embrace Turkish Republic of Northern Cyprus Aviation, it has attracted great attention by pilots, relatives of pilots, and the ones who set their heart on Cyprus aviation. He also stressed that the book serves as a source especially for the ones who are interested in aviation and students who study aviation at universities.
While giving information about the book Tayhani stated that, airspace of Cyprus which was used by the forces that were in domination battle during The First World War, The Second World War and The Fatigue of Suez and the strategic importance of this airspace, English bases and the global relations of these bases are discussed within the first chapter.
Tayhani said that the second chapter of the book includes; corporate aviation in Turkish Republic of Northern Cyprus and historical development of Turkish Cypriot Air Association which was established one year after the proclamation of the republic and apart from its many successful activities plays a vital role in training great amount of Cypriot pilots. He also stated that the third chapter of the book includes interviews with senior directors of Turkish Cypriot Air Association.
Tayhani summarized the other chapters of the book and said that the book includes parts such as; life stories of Turkish Air Association members and civil aviators, Captain Cengiz Topel, who has died while defending Cyprus, Lieutenant İlker Karter; airports of Cyprus; Turkish Cypriot Airways; Geçitkale Airport; Airsports Federation and the departments related with aviation in the universities of Northern Cyprus.  Tayhani said that, in the final chapter of the book he touched upon the strategic importance of Cyprus and said that there is a prudential projection.
Tayhani thanked those who contributed to the maturation of the book, to the ones who shared knowledge and documentation, to the families of Cypriot martyr pilots and said that he hopes that this book would pave the way for other studies that will be conducted in the field of aviation.