Academicians of European University of Lefke addressed Cloud Computing in Their Research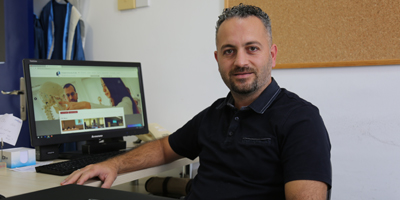 Academician of European University of Lefke School of Applied Sciences, Department of Management Information Systems, Asst. Prof. Dr. Ersin Çağlar represented EUL in the 28th IEEE (The Institute of Electrical and Electronics Engineers) Signal Processing and Communication Applications Congress held in Sivas.
Çağlar presented his research titled "Analytic Models of Security Problems and Performance Evolution in Cloud Computing" which was prepared by Çağlar and Assoc. Prof. Dr. Yönel Kırsal who is an academician of Department of Electronics and Communications Engineering, Faculty of Engineering, EUL. Çağlar emphasized that information technologies have gained acceleration rapidly increasing day by day after internet came into our life and Cloud Computing has become one of the most popular systems of information technologies due to the opportunities it provides.
Çağlar said that, "Even though the notion of Cloud Computing came out originally at the beginning of 1960s, it started to become popular with popularization of internet in 2010s. And today, it became a system which is used as public service (such as electricity and water) and information service. According to American International Technology and Standards Institute, Cloud Computing means providing faster innovation, flexible resources and economic scaling by providing computing services over the internet. Cloud Computing, by comparison with the opportunity which internet provides to people to present demanded information, provides an opportunity of higher level data process power to its users."
Information technologies have an important role in human life
Çağlar stated that information technologies have a significant role on human life and with the opportunities provided by Cloud Computing, it's one of the technologies having high level popularity in recent years. He said: "Cloud Computing is a system which provides common data storage and usage to its users. However, this information technology has disadvantages as well as advantages. There is security gap on the top of these disadvantages". And then he stated that the behaviour of the system is mathematically modelled and analysed after the attack occurs in the Cloud Computing system and until the system returns to normal operation.
Çağlar said that action duration and system data parameters were examined in research to show the effects of attacks to system performance. He further stated that according to results of analysis as attacks to the system became frequent, efficiency rate of the system rapidly decreased and because of this, the necessity of preventing cautions and developing of fault tolerance systems was determined.