"Advanced Life Tourism" handled by EUL Academician Buldanlıoğlu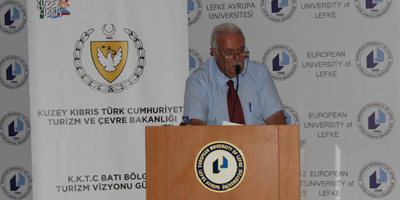 European University of Lefke (EUL) School of Hotel and Tourism Management academician Nazmi Buldanlıoğlu contributed to a workshop called "TRNC Western Tourism Vision" which was organized by the Ministry of Tourism and Environment on 28-29 July 2017 with his "Advanced Life Tourism" themed presentation.
In describing the health tourism and its varieties in his presentation, Buldanlıoğlu discussed advanced tourism, one of the health tourism varieties.
"The advanced age is the people who are 55 years old and over (Senior Citizens), many of whom are retired and who are vacationing at various seasons and times during the year, who have more leisure time and more purchasing power and who have high financial strength," said Buldanlıoğlu. He also explained the places they worked in as trips they made outside, and stated that health-related travels made by people in this age group are included in this definition.
Buldanlıoğlu listed the appropriate potentials by expressing that there are appropriate conditions to be able to conduct health tourism in the TRNC; There are a lot of hotels for advanced age groups, a good climate and beautiful sea which is appropriate for thalasso therapy, the experience in tourism and especially advanced age tourism, the knowledge of foreign languages, the intellectual accumulation, the highly educated work force growing in the field of health and tourism, resources, as well as untouched flora and aunajine, a sufficient number of experienced tourism & travel agencies, professional guidance training of the Ministry of Tourism and close cooperation between the Ministries of Health and Tourism and universities.
Buldanlıoğlu stated that the green nature of Lefke, its historical beauties, scientific projects emerging in the framework of the academic studies of the university, the opportunities provided by the ministries to Lefke and its region, and such important scientific meetings has contributed to the development of tourism in the Lefke region and added that conducting Advanced Age tourism in the western area is appropriate from tourism potential point of view.