Another Golden Cap Award to EUL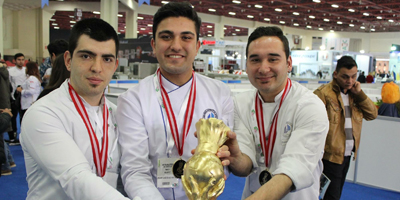 EUL students ranked second in the "Best University of the Year" category
The students of Gastronomy Department of School of Tourism and Hotel Management of EUL ranked second in the "9th International Golden Cap Competition" held in Antalya, under "Best University of the Year" category.
Türksel: Great success for us to be 2nd among 31 universities
The instructor of the Department of Gastronomy who gave information about the contest, Zihni Türksel, stated that the students competed in 2 different categories in the competition, Uğur Özgür with the meat plate and Arda Er with the fish plate in the category of 'Young Cooks' have represented EUL. Türksel, who stated that they participated in the competition with the meat plate prepared by Nadir Kalaycı, Emre Varol and Gökhan Deniz in the category of "Best University", said that the students prepared two presentation plates in each category and they offered these plates to the jury and spectators.
Türksel stated that EUL students returned to EUL with 3 medals and 1 cup by getting second place in the "Best University" category with meat plates they offered to jury and stated that 31 universities participated in the competition and that being the second among these universities was a great success for them. Türksel said that they attended the International Golden Cap Cookers Competition for the third time this year, and they also got first and second rankings in the competition. Türksel stated that, "Firstly I would like to thank, our Rector Prof. Dr. Mehmet Ali Yükselen, Director of Tourism and Hotel Management, Assist. Prof. Dr. Mehmet Ali Egemen, and all the students who participated in the contest". Türksel added that they will represent EUL in the best way for the future competitions to be.
Kalaycı: We represented EUL in the best way, offering new flavors
On behalf of his teammates, EUL Gastronomy School Team Leader Nadir Kalaycı stated that they regularly participate in various competitions every year and stated that these competitions are being prepared in the EUL Gastronomy Practice Kitchen, under the guidance of Zihni Türksel. Kalaycı stated that they constantly consulted with their teammates, discovered new flavors that had never been tried before, and represented them in the best way, presenting them at the competitions they attended.
Kalaycı said that they made rustic presentations with raspberry beet roots, angus beef roots, cinnamon salted chestnuts, tarhana scallops, paneled shallots and spinach sausages, creating modern tastes out of traditional Turkish cuisine. Kalaycı said, "We would like to thank our Rector, Prof. Dr. Mehmet Ali Yükselen, for the support and encouragement of our competition from day to day, and as well Assist.Prof.Dr.Mehmedali Egemen- Director of Tourism and Hotel Management, and Zihni Türksel, who never left us alone".