Award to EUL Gastronomy students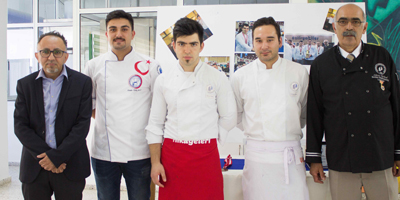 European University of Lefke (EUL) Tourism and Hotel Management School of Gastronomy Department students were awarded for the achievements they achieved in the academic year 2016-2017 in Turkey.
At the "9th International Golden Cap Cookers Competition", a ceremony was held in EUL Gastronomy Cuisine for students who won medals in various fields with 3 medals and 1 trophy, while EUL students won second place in the "Best University" category with meat plates they offered jury. During the ceremony, Assist. Prof. Dr. Mehmedali Egemen, Director of the School of Tourism and Hotel Management, gave a plaque to the head of the team Instructor Zihni Türksel, and presented a gift to the students.
Talking about the work Turksel did in the pre-competition period, Egemen expressed that the motivation of Turksel is very high and that he prepared all the energies and the students with these competitions. Egemen stated that Turksel was a person who was devoted to this work, that he was leading the students in the competitions and that these achievements were achieved as a result of the students working in a self-sacrificing manner. Egemen said that today students are very satisfied with the presentation of the menus they have prepared and they congratulate the students for all their successes and wish the new ones to be successful in their professions by saying that "all the supports that we have given to our students as a college have been recycled as success to my university" .
Students participating in the competition voiced their feelings and said:
Nadir Kalayci: We have been participating in the competition for three years as a team. I think that we exhibited the trainings we received successfully in the competition. I graduate this year. I participated in the competition three times on behalf of EUL and achieved various categories. I hope that, like us, our other friends will gain experience by attending such competitions. I would like to thank our lecturer, Mr. Zihni Türksel and the school administration.
Gökhan Deniz: This competition is an activity outside the school, contributing to the students. In the beginning, we have the opportunity to meet and master ourselves with different cooks. We are able to see presentations and plates from different cuisines built at home and abroad.
Emre Varol: It was an experience for us to participate in the competition. I believe that the contribution of professional life competitions will be great. I am happy to represent the university with significant grades. Today we gave presentations to the authorities of the university with menus that we participated in the competition. The gratitude which we have received from them have motivated us, making us proud.