Basketball – Football Workshop themed "Match Analysis in cooperation with E-Sports" held at EUL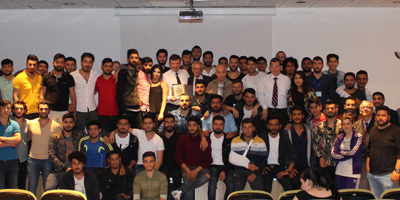 E-Sports director Bilal Aday attended the Basketball – Football workshop themed "Match Analysis in cooperation with E-Sports" organized by European University of Lefke (EUL) School of Physical Education and Sports as a speaker.
Pointing out the establishment aim of E-Sports as to produce software that will meet the needs of technical people, especially in competition analysis at Bilkent University Cyberpark Technology Development Centre in 2005, Aday said that, "Analysis and assistant software, which started with football, was also adapted for team sports such as basketball, handball, volleyball, tennis, ice hockey, grass hockey and was made available to technical persons".
Aday said that in the departments of Physical Education and Sports, and Sports Sciences of many universities, especially in "Coaching Departments", analysis laboratories are being established, and these universities offer applied analysis lectures and by this means graduates are one step ahead in terms of finding a job. Aday stressed that e-sports software lectures are being offered in countries such as USA, Japan, Macedonia and Albania apart from Turkey and added that "E-sports analysis software is being used frequently by football and basketball teams".
Aday said that, "The most common method used by the basketball technical team is to obtain sets from the last 3 or 4 match videos, played by the opponent team. Using these set images, attack methods of the opponent team are explained, and with the help of the video, how to damage the game plan of the opponent team is expressed".
Aday gave detailed information to the participants on; marking the parts belonging to the sets from the sample match videos, organizing the marked set images, discarding the unnecessary set images and finally the phases of preparing a meeting video. He completed the training on basketball with giving clues on matters such as increasing the quality of the details, such as drawing on video, during meeting with the discarded meeting images.
Aday pointed out that football technical team generally uses the analysis in two different ways and added that, "The first is to try to solve game plans and take precautions by doing rival clip analysis like basketball. The second is to conduct an individual analysis of the competition in which they are playing, to see in detail where the player is hitting and to tell them the situation in the video match".
Aday pointed out the fact that, players psychologically believe in what that see and that is why it is very important to show them what they did consecutively during the match in terms of developing them.
On the other hand, training on football started with clip analysis. Aday said that this part is same with the basketball in order to save time and showed how to the individual analysis and conducted practices with the participants. The workshop was completed with the results of the analysis and meeting images and giving clues on the individual studies.