Collective Bargaining Agreement signed between EUL and KTAMS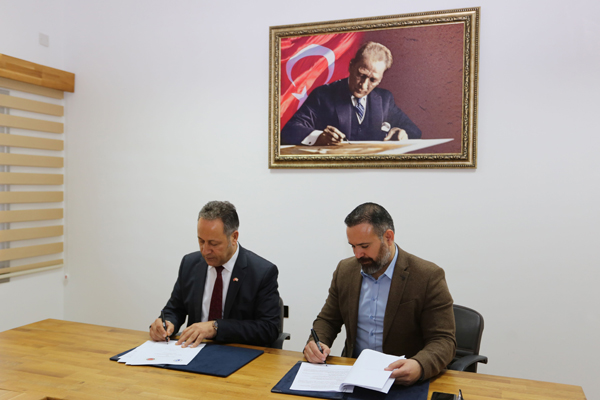 A Collective Bargaining Agreement covering EUL personnel was signed between the European University of Lefke (EUL) and the Cyprus Turkish Public Officials Union (KTAMS).
At the ceremony of Collective Bargaining Agreement which was held at the EUL Senate Room on February 24, 2023, EUL Board of Trustees Chairman Enver Öztürk, EUL Board of Trustees Members Hüseyin Şener and Gökhan Saraç, EUL Rector Prof. Dr. Mehmet Ali Yükselen, KTAMS President Güven Bengihan and union officials were present. European University of Lefke Board of Trustees Chairman Enver Öztürk and KTAMS President Güven Bengihan signed the contract.
Chairman of the Board of Trustees Enver Öztürk expounded that the employees are valuable and valuable to them and emphasized that all requests that may be made under the current conditions are fulfilled with this contract in his speech. Öztürk who expressed that they are happy to sign the contract today, wished that the contract would be beneficial and auspicious to all employees, the university and the region. Öztürk stated that the signed collective bargaining agreement was satisfactory for the administrative staff and highlighted that they also evaluated the measures that would contribute to the academic staff as the Board of Trustees.
KTAMS President Güven Bengihan stated in his speech that EUL has a special place for them and thanked the EUL Board of Trustees for their mutual understanding during the Collective Bargaining Agreement meetings and also everyone who put effort.
Bengihan wished that this contract would be beneficial for both institutions stating that EUL has made significant contributions to both the employees and the region.