"Diabetes with Causes and Results" themed panel held at EUL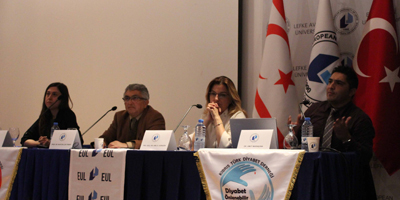 European University of Lefke (EUL) Faculty of Health Sciences and Turkish Cypriot Association of Diabetes organized a panel themed "Diabetes with Causes and Results". The panel started with the opening speeches of Head of Turkish Cypriot Association of Diabetes Caner Arca and Dean of EUL Faculty of Health Sciences Prof. Dr. Ruhi Selçuk Tabak.
First session of the panel was moderated by Head of Nutrition and Dietetics Department Prof. Dr. Nevin Aktaş and Endocrinology and Metabolism Diseases Specialist Dr. Hasan Sav made a presentation about "Hypoglycemia and Beyond", Assoc. Prof. Dr. Tuba Çiğdem Günebak about "Diabetes is around the corner.. What should be done?", and Assoc. Prof. Dr. Nazal Bardak about "The Importance of Nutrition in Preventing Diabetes".
In the second session of the panel which was moderated by Prof. Dr. Ruhi Selçuk, Endocrinology and Metabolism Diseases Doctor Umut Maraşuna made a presentation about "Are Refreshments Necessary? Where? When?", Assoc. Prof. Dr. Evrim Güngör about "Returns and Disadvantages of Diabetes".
Arca pointed out that diabetes is spreading with an increasing speed and added that controlling diabetes had  two meanings and listed these as; efforts to control people with diabetes  and preventing the development of complications and efforts to increase the living conditions of relatives of people with diabetes.
Tabak said that diabetes is one of the most important problems of present, making many organs incapable of work, and that diabetes is seen at the beginning of the causes of death.
Aktaş said that, "It is our universities mission to reflect the updated information in the light of scientific developments that we offer to the students, to the society and to establish bond with the society,". Aktaş started the session at the panel saying that information will be shared about diabetes, a chronic, noncontagious disease, which is increasingly threatening for all age groups around the world.
Describing hypoglycemia as the drop of blood sugar level enough to reveal symptoms, Sav said that phases of the drop of blood sugar level are; low serum blood sugar, symptoms and recovery of symptoms with sugar intake. Sav gave detailed information on; physiological response to hypoglycemia in diabetic and non-diabetic persons, and response to hypoglycemia in normal individuals.
Günebak pointed out that the individual's body mass index (BMI), level of physical activity, medical background and treatments, laboratory findings, socio-economic status and willingness to change lifestyle are evaluated when planning nutrition programs. Günebak also pointed out the importance of dietetics and nutrition therapy in diabetics.
Bardak pointed out that, in recent years, diabetes has become the leading cause of complications that obesity can cause and that can be prevented with healthy eating and added that "Increased obesity leads to organ damage such as liver and kidney due to the formation of free fatty acids in the circulation, thus leading to the formation of diabetes,". Bardak stated that in addition to the therapeutic functions of dietitians, the most important step in preventive medicine is to prevent chronic diseases from becoming complications.
Maruşuna stated that due to the lack of evidence, the quantity of main meals and refreshments does not have any clear suggestions, and that according to the available information, refreshments should be individualized and should not be given unnecessarily.
Güngör stated that diabetes is a chronic disease that affects a wide population in society and can cause serious organ loss and premature death if not treated regularly. Güngör stated that said that each year, 7 million people develops diabetes, and 4 million people dies due to diabetic complications and added that "Every 10 minutes 1 person dies due to diabetic complications and 2 persons develops diabetes,".
Elibol said that, with exercise, Glut-4 (Glucose transporter type 4) enhances the transport of glucose into the cell in the cell membrane and does not require insulin during this time, increasing the insulin sensitivity of the cells over time and changing the composition of the lipids in the blood circulation. Elibol informed the participants about; the risks of exercise, the recommended exercises, the appropriate exercise programs for diabetes.
At the end of the panel, Aktaş offered certificate of appreciation to Sav, Günebak and Bardak, and Tabak to Güngör, Maraşuna and Elibol. Head of Turkish Cypriot Association of Diabetes Caner Arca offered certificate of appreciation to all speakers on behalf of the association.