Educating the Parents of Children with Special Needs is Vital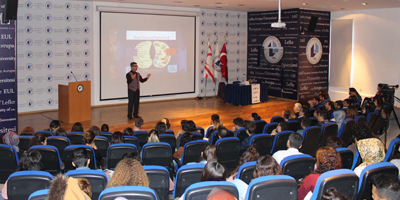 European University of Lefke (EUL), Education and Research Center for Children with Special Needs (ÖÇEM) organized a conference themed "Educating the Parents of Children with Special Needs". Academician of Gazi University Department of Special Education Dr. Tamer Karakoç attended the conference as a speaker.
Karakoç explained that family education as necessary not only for the families of children with special needs, but also for the families of ordinary developing children, because many of the families see the inappropriate behavior of the children rather than the positive and appropriate behaviors, which in turn increases the negative behavior of the child .
Karakoç gave examples by saying that the human brain turns itself off with threats, but learns when motivated and for this reason, parents should motivate their children while raising them.
Karakoç emphasized that positive behavioral support training programs were implemented to improve the child's positive behavior and that the first step of this program was to recognize how the parents behave towards the child, how well they focus on the positive behaviors, and how much they put forward the negative behaviors and he also explained the necessary techniques, how to give feedback, and how to generalize these behaviors.
Karakoç listed the steps in the system of parental approaches that increase negative attitudes as criticism, redemption, use of force, and as a result, increase and acquired continuity of the undesirable behavior of the child and he gave examples to these steps. Karakoç emphasized the parents should develop alternative behaviors or other behaviors, that would teach opportunities, increase cues, model appropriate behaviors, develop social models and social skills, and teach social skills in order to overcome above mentioned behaviors of the child.