EUL Academician Aslay made a statement within the scope of "World First Aid Day"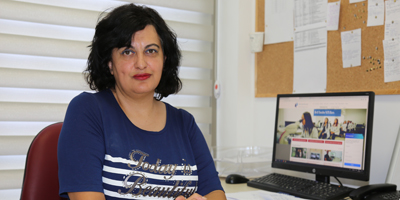 The most important first aid application in the pandemic process is to prevent contamination
European University of Lefke (EUL) Vocational School of Health Services, Department of First and Emergency Aid, Asst. Prof. Dr. Semra Aslay, made statements about "World First Aid Day" and drew attention to the importance of first aid.
Aslay explained that the "World First Aid Day" is celebrated in nearly 200 countries, including Turkey and the TRNC, on the second Saturday of September every year. The purpose of celebrating the first aid day is "drawing attention to the necessity of doing what is done in any situation that threatens life or impairs human health that we encounter throughout our lives is sometimes consciously, but mostly instinctively".
"First aid, in life-threatening situations and beyond the applications which are specified in international guidelines, also has a very diverse spectrum". There are also first aid applications other than respiratory or cardiac arrest, fatal electrical accidents, traffic accidents or drowning. Aslay said that "the main purpose here is to draw attention to the fact that we are all first aiders with many applications we do both in deadly situations and in daily life".
She stated the golden rules that should not be forgotten in first aid applications as follows: in fact, there are guidelines on how to do all medical emergencies correctly and they should be treated accordingly, while applying first aid, we must first protect ourselves against the possibility that not only the casualty but also those who go to help may be harmed, it is always the right way to activate the emergency response system (112), there may be health problems other than the apparent situation, and the patient or casualty can be transported by the most appropriate ambulance.
In the continuation of Aslay's statement, she mentioned that apart from this special day, with the integration of first aid into the education system in order to educate all segments of the society as a lesson or course, conscious emergency health care emerges as a more common situation today and a special theme is brought to the fore every year". On the World's First Aid Day, she stated that the most discussed issues in 2021 were how we can prevent situations that require first aid due to the current pandemic conditions and road safety.
At the end of her statement, Aslay mentioned that "in these days when more than 223 million positive cases and 4.55 million deaths are seen all over the world, and we still have to fight mutations, undoubtedly the most important first aid application is to prevent contamination, to help provide first aid on a protective basis, as a vaccine, by following the mask-distance-hygiene rules.