EUL Academician Çam attracted attention to the place of women in society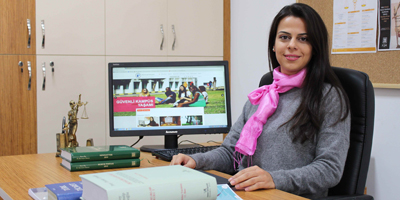 European University of Lefke Faculty of Law Department of Business Law Academician, Gülçin Çam gave information about "Women's Rights" and attracted attention to the place of women in society.
Çam; "There is a struggle starting from the ancient time, to accept women as individuals and to place them in society."
Pointing out the struggle of accepting women as individuals and placing them in society Çam said that, "The first steps of this struggle were taken by women in the Age of Enlightenment with their demands for citizenship. However, it is also known that women who have the right to vocational training are then questioned about their physical and intellectual competencies about entering academies when they want to study at universities". Çam said that women that are exposed to negative discrimination are a matter of debate which cannot be associated with human dignity.
Çam stated that the struggle of women's rights stirred with the evets such as; giving citizenship to women, including them into politics and efforts of gaining rights and freedom that are granted to men and added that starting point of this movement was the desire of women to vote and stand for election in the 18th century. Pointing out that Marie Olympe de Gouges, who published the Declaration of the Rights of Woman and of the Female Citizen, during the French Revolution, was the first modern advocate to take action for women's right to vote, Çam said that Marie Olympe de Gouges was punished with execution like men. Çam pointed out that despite being executed like men, women did not had the rights that were granted for men during those times.
Çam said that ""The Convention on the Elimination of All Forms of Discrimination Against Women," adopted by the United Nations General Assembly in 1979, is one of the eight basic human rights treaties adopted by the UN". Çam added that the contracting states accepted the obligations such as; accepting that men and women should have equal rights, all people have free birth, equal dignity and rights, denying sex-based discrimination and to guarantee equal enjoyment of women and men of all economic, social, cultural, civil and political rights.
Çam, "Various regulations were made for effective implementation of women's rights"
Çam pointed out that, in the Convention mostly referred as CEDAW, the articles that indicate that men and women have equal rights in matters addressing every aspect of human life such as; right to education and to benefit from educational opportunities, freely choosing a profession in working life, to be employed, usage of the right to work in equal pay and safe working conditions, to start and plan a family, to benefit from health services, to participate in social activities, entertainment, sports and cultural life are highlighted.
Indicating that there are many regulations addressing women's rights in both international and national legal texts, Çam pointed out the importance of application of the relevant regulations and the adulation of everyday life, and  added that at this stage, the various institutions and organizations, non-governmental organizations, foundations and associations are actively engaged in the implementation of women's rights
Many rights were granted to women with the adoption of the Civil Code in 1926
Çam said that in 1926, with the adoption of the Civil Code, many rights were granted to women in the sense of private law, with provisions prohibiting polygamy, giving the right to heirship and divorce to women who have equal rights with men in marriage unions. Çam stated that on December 5, 1934, the right to be elected and elected as a deputy, granted only to men with the 1924 Constitution in Turkey, was granted to women through the Constitutional amendment thus December 5 is celebrated as the Day of Women's Rights.
Çam said that, "The way to reach the level of contemporary civilization is through the recognition of women's rights without any discrimination because women are human in the framework of equality, justice and equity. The woman who will be able to use the rights she has because she is a human being embodying the concepts of social, democratic and rule of law and will find equal opportunity with the breakdown of gender perception will be more productive and useful,". Çam expressed that this awareness should be kept alive and enlightened to the people of every part of the society.