EUL Academician Perçinci emphasized the importance of Nutrition on Immune System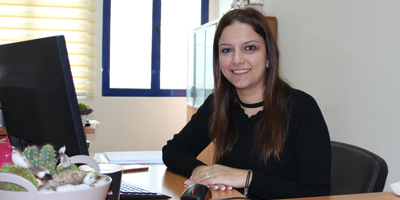 Academician of European University of Lefke (EUL) Faculty of Health Sciences Department of Nutrition and Dietetics Assist. Prof. Dr. Nazal Bardak Perçinci made some statements on "Nutrition and Immune System" and conveyed detailed information.
Perçinci: For a strong immune system, healthy eating is just as important as social distance, hygiene rules and avoiding stress.
Perçinci said that "In the last 50 days, in addition to "stay safe at home, stay safe", we started to say "take precautions and stay safe. Along with the measures such as maintaining social distance, wearing a mask, wearing gloves and avoiding stress, consuming sufficient and balanced food from all food groups and consuming healthy and clean food is also of great importance" and added that the immune system is a mechanism that protects our body against external diseases and it is very important for a strong immune system to maintain healthy nutrition, regularly exercise, get adequate sleep and avoid stress. Perçinci also said that "At the point where our immune system is broken or destroyed, the defence gates of our body remain open until the end. As a result, we may encounter situations where many diseases such as allergies, arthritis, infections, AIDS and Coronavirus causing pandemic this year".
Perçinci stated that "Since the immune system works in coordination with all other body systems, it is important to pay attention not only to nutrition, but also to all health recommendations and hygiene. Lifestyle strategies can make a person's immune system stronger" and listed these strategies as; not smoking, regular exercise, maintaining healthy weight, avoiding alcohol, or not over-drinking, getting enough sleep, minimizing stress and maintaining hygiene
Perçinci: Nutrition of people according to their physiological condition and season is the most correct step
Perçinci said that "Many factors such as excessive alcohol consumption, smoking, high-fat nutrition and air pollution cause free radicals to form in our body" and went on to say that free radicals cause diseases such as heart, cancer, diabetes, flu, and cold, and chronic diseases develop in the body, as well as developing chronic diseases increase the release of stress hormones in the body and disrupt the immune system.
Perçinci pointed out that water has many important functions such as carrying nutrients and metabolic wastes, adjusting body temperature, and being a solvent for vitamins, minerals, protein, carbohydrates and other molecules and added that even a 1-2% loss of water from the body causes effects such as irregular movement, loss of appetite, slowed digestion, impatience, fatigue, and increased heart rate. Perçinci finally said that "8-10 cups of water, which we will drink during the day, is one of the biggest supporters of keeping you healthy. Although there is no miraculous food to support the immune system, it will be the best step to eat according to the physiological state of the person and the season".