EUL Academician Türkeri made statements on "Healthy Menus in Restaurants"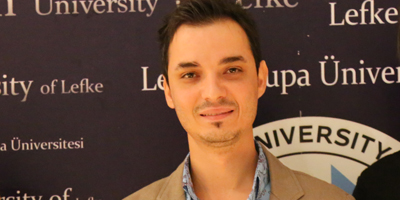 Head of Department of Gastronomy and Culinary Arts, School of Tourism and Hotel Management, European University of Lefke Asst. Prof. Dr. İlker Türkeri made statements on "Healthy Menus in Restaurants".
In his statement, Türkeri said, "In recent years, the ease of travel and technological developments and the increase in intercultural communication and relations have also affected the cuisines of the country. With this interaction, it is seen that the recipes of other cultures and cuisines are also applied in local cuisines with fusion techniques. However, the emergence of nutrition-related health problems recently has caused us to resort to healthier ways of consuming flavors from world cuisines. While the public's great interest in nutrition poses a particular challenge for restaurant managers and chefs, chefs must be able to prepare and serve food that meets the high health standards demanded by some customers, while preserving the taste and appearance that are important to everyone. Chefs are also the primary responsible personnel for creating healthy and up-to-date diets for their businesses. Since each customer's demographic variables, health problems and physical activity levels vary from person to person, it is not an easy process to manage and maintain this responsibility.
Türkeri listed the components of a general healthy meal consisting of a starter, main course and dessert as follows;
• The plate should consist of a total of 1000 calories.
• 15% to 25% of calories should consist of protein from an animal or plant-based source.
• Between 45% and 65% of calories should come from carbohydrates from natural sources such as whole grains and fruit.
• 20% to 35% of calories should be taken from fat. Less than 10% of the total fat should come from saturated fats such as butter and animal fats, and more from unsaturated sources such as olive oil, oily fish or nuts.
• The plate should contain 8 to 12 grams of fiber. The total meal should not contain more than 1000 milligrams of sodium.
• A healthy plate should contain about 200 grams of fresh vegetables. These are general recommendations that will guide menu planning, including appropriate portion sizes within healthy eating guidelines.
Türkeri finally shared the following information in order to cook without losing their nutritional value and to use appropriate techniques;
• Foods cooked with appropriate techniques should be tasty, thick and pleasing to the eye.
• The quality of the food should be increased by choosing the best quality ingredients and preparing them appropriately with every technique used.
• While cooking food, moisture and water must be protected.
• Sauces should be chosen in a way that enhances the flavor without compromising their nutritional value.
• All foods should be cooked while preserving their nutritional value.
• Preparing food according to cooking time is one of the best ways to minimize nutrient loss.