EUL Academician Türkeri presented his research on "Sectoral Perceptions of Gastronomy Students" at the international congress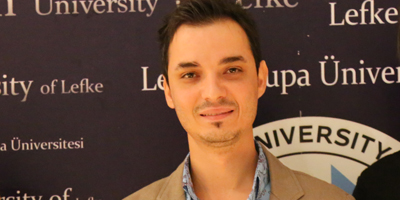 EUL represented at Tourism Congress
European University of Lefke (EUL) Head of Gastronomy and Culinary Arts Department Assst. Prof. Dr. İlker Türkeri represented the European University of Lefke at the 3rd International Sustainable Tourism Congress with his study titled "A Research on Sectoral Perceptions of Gastronomy Students".
Providing information about the study, Türkeri stated that the sectoral perceptions of the students who are the potential qualified human resources of the gastronomy sector were measured in the study conducted with 387 students studying in the field of gastronomy in the Turkish Republic of Northern Cyprus and Turkey.
Evaluating the results of the research, Türkeri shared the following information; It is seen that the gender, one of the demographic variables of the participants, is almost equally distributed among the participants, and the profession, which was heavily chosen by men before, is now included in women and the ratio is almost equal. The students participating in the research state that their personalities are compatible with professional dynamics and that they can adapt to their intense working tempo. This shows that before choosing the gastronomy department, the students are aware of the sectoral situation and that the professional conditions are investigated and they make their preferences with a positive perception. In addition, the students expressed that the education levels of the sector employees are increasing day by day, and they once again revealed the functionality of the gastronomy-related departments that have been opened in recent years. In addition, the students in the field of gastronomy, who will be the sector representatives of the future, expressed that they are students in the field of gastronomy and that they are planning a career in this field without hesitation. This is an indication that the negative social perception of the cookery career in the past has changed positively and has been socially accepted.
Finally, Türkeri stated that they think that students will earn more income in the gastronomy sector compared to many other sectors, and said; It is seen that students consider their future well-being in career choice, despite the difficult working conditions in the sector, in career formation and career choice.