EUL Academician Yurdukoru made some statements on "COVID-19 and Dentistry"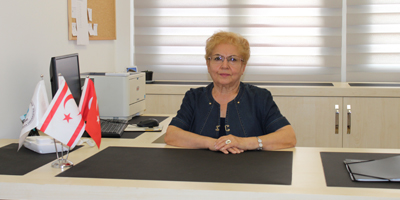 Dean of European University of Lefke (EUL) Faculty of Dentistry Prof. Dr. Bengül Yurdukoru made some statements on "COVID-19 and Dentistry".
Yurdukoru said that "Dentists are a group of doctors who are trained and experienced not only with COVID-19 (SARS-Cov2) but also in terms of infectious and epidemic diseases" and added that the working area of dentists is the patient's mouth which is regarded as one of the riskiest groups in many academic studies. For this reason, she stated that in their undergraduate education, dentists obtain the necessary information in the pre-clinical period and understood the importance of protecting both their health and their patients' health from infectious diseases.
Yurdukoru stated that the COVID-19 pandemic raised awareness of epidemics in the public and that dentists are equipped with the necessary information during previous core training on diseases such as SARS, MERS, HIV, Hepatitis, Chickenpox, and Tuberculosis.
Yurdukoru further stated that "COVID-19 virus transmission is in the form of droplet infection. Droplets that are spread when the infected person coughs and even speaks are transmitted by reaching the mouth, nose and eye mucosa. Viruses do not survive for a long time. It is thought that their activities disappear within a few hours. However, depending on the humidity of the medium they are contaminated, the light, the structure of the surface and the amount of epidemic thrown out, their survival characteristics are prolonged. In addition to the appearance of a simple cold, severe acute respiratory illness, it causes damage to the lungs, liver, kidneys and other organs. Virus-infected people survive the disease in the clinical picture, with approximately 80% mild to the remaining 20% to severe pneumonia. 2-3% ends with death".
She continued that "Because dental clinic staff and dentists fulfill their health service duties by working inside the mouth; They use masks and gloves against saliva, droplets in every clinical application. Most importantly, they work in an aerosol (dispersal of a solid or a liquid in the gas environment). For this reason, special masks, gowns, glasses, protective shields are used for the protection of the eyes and faces of physicians and co-workers against water splashes, aerosols and foreign particles during treatment, especially in patients infected with virus or pandemics". She also noted that these protective measures are not effective in the COVID-19 pandemic and that professional organizations do not recommend interventions other than very urgent treatments during this period when the pandemic is acute.
Yurdukoru also said that "Viruses and bacteria were also present before the Covid-19 pandemic. Dentists are trained professional group that help patients with the understanding that every patient is infected, knows precautions. This group has knowledge of hand hygiene, environmental disinfection" and stressed that, in dental treatments, microorganisms fulfil their infection control recommendations against COVID-19, due to the droplet (inhalation of suspended microorganisms) and contact. Yurdukoru finally stated that physicians are responsible for controlling the patient's health and cross contamination as well as their own.