EUL Academicians discussed the health and psychological dimensions of the new type of coronavirus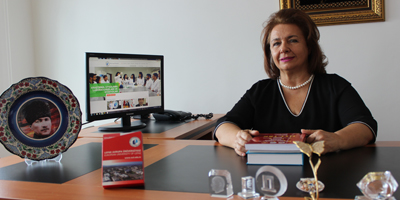 Regarding the new type of coronavirus that affects lives in our country and in the world, Director of European University of Lefke School of Health Prof. Deniz Şelimen said:
The first meeting of humanity with coronavirus occurred in 1960, but this virus first appeared in China as SARS-cov in 2002 and was the first time in China at that time. As MERS-cov, the coronavirus, which threatens humanity again, started in Jeddah, Saudi Arabia, and it affected people between the ages of 1-99. Microorganisms are patient and smart. They wait and change shape and attack again. Here they defeated and appeared in a different structure after 8 years in coronavirus. Stating that it is very important to always be prepared and to apply the measures patiently to win the war in such epidemics, Şelimen said, "The new type of corona virus has taken more than 150,000 lives worldwide. This is a serious figure. It threatens those over a certain age, those with chronic diseases, and those with a weakened immune system. So it targets the weak. Our weak point is hitting whatever. It is necessary to pay attention to our nutrition and keep our immune system strong. "
"Hygiene is very important in this war"
Şelimen said, "Hygiene is very important in this war, of course, cleaning the hands. It is necessary to wash hands not only after the toilet and after the meal. In this period, we should prefer paper towels instead of electric dryers in public toilets. At home, family members' towels should be separate and changed daily. It should not be forgotten that oral hygiene is of great importance in protection. We must also neglect this. " Another topic is contact, and cutting contact with each other stops the virus from moving, Şelimen said, "We need to prevent it from moving from one place to another. This is in our hands. We can achieve this. In addition, phones and key rings that are constantly circulating in our hands, which allow viruses to move. Their cleanliness is also very important. We should also be careful when using hand washing products. If they are used frequently, they can cause allergic reactions and contact dermatitis in the hand. Therefore, if we are staying at home for a full day, it is sufficient to wash hands with normal soap and water. Let's not forget that everything is going through patiently applying all these measures. "He evaluated the agenda.
School of Health Faculty Member Assist. Prof. Dr. Pınar TEKTAŞ explained the psychological dimension of the event as follows:
The corona virus broke our routine. The balances in our life are broken. When we think that it is a life threatening disease, we experience stress and anxiety, especially this anxiety is the death anxiety. What should we do to protect our mental health in this process? When we turn on the television or turn on social media, we encounter news about this issue. It is necessary not to devote much time to these news, not to be overwhelmed. We need to take time for our daily habits and create routines at home. Saying that we can spare time for activities we love, such as playing sports, reading books, and watching movies, Tektaş said, "In fact, this process has taught us how we can be happy with little things."
"It is important to think positively in this process"
The process we spent taught us that we can create different beauties and different experiences at home. We always say, how we perceive life, we actually live that way. We should see this process, which creates anxiety and stress, as an opportunity to get to know ourselves, to add meaning to our lives, to understand the value of what we have, to show how valuable it is to hug each other. It is important to think positively in this process. If we perceive a negative event we experience as a threat, our brain is programmed to perceive these threat signals. Let's patiently accept and spend these beautiful spring days at home so that we can spend summer days outside with more pleasure and health. "