EUL Faculty of Agriculture Academician Alas made a statement about the 16th October World Food Day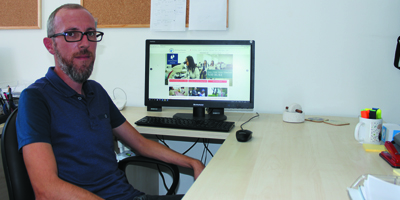 European University of Lefke (EUL) Faculty of Agricultural Sciences and Technologies Faculty Member Asst. Prof. Dr. Turgut Alas made a statement on the occasion of 16 October World Food Day.
Stating that the "World Food Day" is celebrated on October 16, the founding date of the United Nations Food and Agriculture Organization (FAO), every year, Alas stated that in this context, FAO organizes events with different themes every year to emphasize the importance of food. Stating that this year's theme of FAO's World Food Day is "The steps we take are our future – Better production, better nutrition, better environment and better life", Alas said, within the framework of this theme, better production, nutrition, emphasized the need to support the transformation to sustainable agro-food systems for the environment and life.
Alas: It is important that all applications to ensure food safety are planned and controlled within the framework of scientific facts 
In this context, Alas said that we should review our dietary habits and prefer foods that are easy to produce, do not disturb the ecological balance, and have high nutritive value, and emphasized the importance of the concept of "sustainable agriculture and food".
Expressing the main causes of food insecurity as hunger, obesity, environmental degradation, loss of agricultural biodiversity, decrease in yield, food waste and lack of safety for food chain workers, Alas said that this period, when countries started to develop and implement their COVID-19 recovery plans, based on scientific evidence, He pointed out that there is a very important opportunity to develop new plans to improve food systems by adopting innovative solutions.
Stating that high technology (automatic irrigation and fertilization, high-yielding varieties, resistant varieties, modified preservation technologies, etc.) and controlled inputs (pesticides and fertilizers) are indispensable in food safety and agricultural activities, Alas said that while ensuring an increase in yield, it also ensures food safety. He said that it is important that all applications made for this purpose are planned and controlled within the framework of scientific facts.
"With COVID-19, the necessity of more sustainable agricultural practices that protect natural resources, our health and the climate, as well as the new opportunities offered through digitalization and e-commerce, have begun to be understood more clearly by all of us," said Alas. Stating that there are changes in consumption habits, countries have started to develop new policies on food safety and access to healthy food, and it is of great importance to give priority to local production, Covid-19 tells us that in addition to health infrastructure and health services, protecting nature, local production, safe food supply and self-sufficiency. It also showed how important food production is."