EUL Faculty of Dentistry Dean Yurdukoru drew attention to the importance of oral health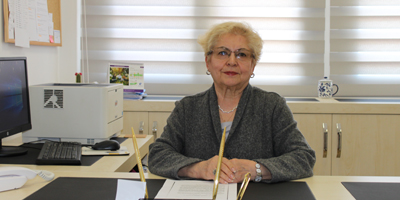 European University of Lefke (EUL) Dean of Faculty of Dentistry Prof. Dr. Bengül Yurdukoru stated that March 20 is being celebrated as the 'World Oral Health Day' and gave special information for the day. Yurdukoru stated that on 20 March 2013, the World Dental Association (FDI) accepted 20 March as the 'World Oral Health Day' in order to reduce the incidence of oral and dental diseases and to draw the attention of individuals, families, communities and governments to oral health. He stated that the Health Day is celebrated with various activities in approximately 200 countries that are members of the FDI, and efforts are made to increase the quality of life related to oral and dental health.
"Oral health is very important; It enables us to speak, laugh, smell, taste, chew, and swallow, and allow us to express a range of emotions in a painless and comfortable way. An unhealthy mouth limits our capacity to perform these daily functions, affecting our emotional and social state, and overall physical and mental health, resulting in declines in our quality of life. Oral and dental diseases are among the most common chronic diseases in the world," said Yurdukoru and continued as follows; Globally, 90% of the world's population is at a serious risk due to the fact that they have oral diseases ranging from caries, gum diseases and oral cancer. In addition, it is associated with important general health problems and creates pain, discomfort, social withdrawal and self-confidence problems. Oral and dental diseases can be prevented and treated at an early stage.
Yurdukoru made the following statements in the continuation of her statement; For World Oral Health Day in 2022, FDI has prepared a poster with the main theme of 'Be Proud of Your Mouth', calling for 'CARE FOR YOUR ORAL HEALTH, HAPPINESS AND WELL-BEING' in order to emphasize the fact that an unhealthy mouth has serious effects on every stage of life. With the theme of 'Be proud of your mouth', it is desired to draw attention to the importance of oral health for general health. The theme explains that good oral health will lead to a longer and healthier life. With this call to action, it is expected that people care about their oral health and motivate their care practices by valuing their mouths for their general health.
Stating that the main purpose of health is to protect individuals against diseases, Yurdukoru said, "Protective and preventive health services should be the basic value of our health. Based on the fact that dental and gingival diseases are preventable diseases; In addition to informing the society, it is important to establish oral and dental care habits. In the creation of this awareness; Professional organizations, educational institutions, voluntary health organizations and the health industry have great responsibilities.
Yurdukoru finally concluded her words as follows; I congratulate all our colleagues working for the protection and improvement of oral and dental health on 20 March World Oral Health Day.