EUL Faculty of Pharmacy is Training Professional Pharmacists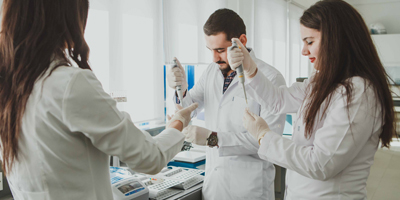 With its fully equipped laboratory and high technology devices, European University of Lefke (EUL) Faculty of Pharmacy is bringing pharmacy education to different dimensions.
Dean of European University of Lefke Faculty of Pharmacy Prof. Dr. Rümeysa Demirdamar pointed out that the faculty has all kinds of opportunities and added that the students of the faculty are trained to become "Medication Executives" who are expert pharmacists in patient-centered pharmaceutical maintenance.
Demirdamar attracted attention to the increasing importance of the pharmaceutical profession and said that "In recent years, the role of pharmacists in the healthcare sector has changed from being only a pharmacist, to a medication executives."
Demirdamar said that "Our students will be the pioneers of up-to-date pharmacy with the training they receive at the Faculty of Pharmacy at European University of Lefke." Demirdamar stated that along with the 'patient-centered' training that is offered with fully equipped teaching staff and laboratories students are graduated with the profession knowledge provided in fully equipped analytical chemistry, biochemistry, clinical biochemistry, pharmaceutical chemistry, pharmaceutical technology, pharmacognosy, microscopy laboratories.
Working spaces of Faculty of Pharmacy Graduates is vast
Demirdamar emphasized that the students of the Faculty of Pharmacy are graduated with "skills and competence in community health issues, pharmaceutical care, organization and management and professional / personal areas" which are the qualifications recognized by the International Federation of Pharmacy (FIP) and with these skills they will offer primary health care services, taking their place among the health care teams in their countries.
Demirdamar said that working spaces of Faculty of Pharmacy graduates is vast and listed these spaces as; pharmacy and public pharmacist (in hospital pharmacy and clinic pharmacist in hospitals); Ministry of Health; pharmaceutical industry (in formulation, manufacturing, quality control, licensing and medical departments); cosmetic industry; and pharmaceutical warehouses. She said that pharmacists, who are the only ones that receives formal education on medical herbs and herbal medicines subjects, are now taking place in producing medical herb raw materials and medical herbs.
The faculty offers all kinds of opportunities
Emphasizing that the faculty will provide a wide range of job opportunities with laboratories, equipment and industry internships for industrial pharmacy, Demirdamar said that the candidates who would prefer the reconstructed pharmacy profession will receive an academic education in the EUL Faculty of Pharmacy.