EUL Gastronomy Department students held a tasting event at the Kalkanlı Olive Oil Factory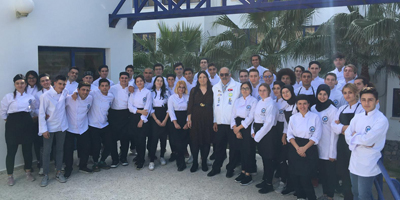 European University of Lefke (EUL) Centre of Social and Cultural Activities and Gastronomy Club held olive oil tasting event at the Kalkanlı Olive Oil Factory established under the name of Green Lefke.
EUL Gastronomy students tasted the oil with sourdough breads they made during the lesson
Yeşil Lefke Ticaret Ltd, which has made an important investment in Lefke Region in olive processing and pickle production, produces different kinds of oil including natural olive oil, extra virgin olive oil, cold press stone press, black oil, and so on. The company, which purchases products from outside besides nearly 10 thousand olive trees around the facility, works with great care and dedication.
The director of the company Ülfet Sezey Bahçıvan said that "We have each product that we purchase examined in Turkey which is of great importance for us". Sezey also made a short introduction of the company to the students.  Describing the parts of the factory, Sezey introduced the processes such as packaging and label storage department and conveyed information about olive production boilers, oil production, olive boiling and drying for black oil production, and olive oil bottling. During the visit, information was given about all stages from harvesting olives to removing oil, acid ratios and distinguishing quality oil and poor quality oil.
Firm products with a production facility and a mill must be preferred
Pointing out that the biggest problem in the sector is that the products in the markets come smuggled, mixed with various oils, sold under the name of olive oil and cannot be prevented from being produced by illegal methods, the company informed that there are products sold as olive oil although there is sunflower oil in the market. Suggesting that consumers should be sensitive and careful in this regard, the firm recommended that EUL students also prefer the products of the firm, which has a production facility and a mill. The quality of the oil and the acidity ratio of the oil were examined and the students of EUL Gastronomy Department tasted the oil with sourdough breads they made in the course.
The chairperson of the Gastronomy Department Assist. Prof. Dr. İlker Türkeri and Academician Selcan Oyal also participated in the event and emphasized that the visit, which was informative for students to choose the good product, was professionally important.