EUL Nutrition and Dietetics Department Academic Soycan discussed the topic of "Sustainable Nutrition"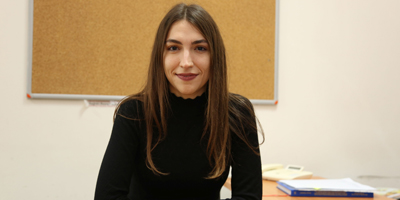 European University of Lefke (EUL) Faculty of Health Sciences Nutrition and Dietetics Department Lecturer Dr. Gülten Soycan drew attention to the issue of "Sustainable Nutrition" and made statements on the subject.
"The Food and Agriculture Organization of the United Nations (FAO) reported that more than 820 million people in the world are struggling with hunger and in 2018, 1.3 billion people did not have access to nutritious and adequate food. Developed countries waste one-third of the food produced each year. Sustainable nutrition is of great importance in terms of preventing food waste, supporting access to safe food and environmental problems such as climate change," Soycan said, adding that the United Nations Food and Agriculture Organization defines sustainable healthy nutrition, nutritious, safe, biodiversity and ecosystem protective, accessible, fair. defined it as an economically viable and affordable, naturally sourced lifestyle.
Plant-based nutrition is very important for a sustainable healthy life.
"Global food production must increase by 62% by 2050 in order to meet the needs of the growing world population and to meet the demand for animal food. Foods produced unsustainably pose a risk to global environmental change and human health. Saying that the United Nations Sustainable Development Goals aim to protect the environment, eliminate poverty and improve nutrition by 2030, Soycan said that in order to achieve these goals, it is necessary to provide healthy nutrition with sustainable food systems. Emphasizing the importance of plant-based nutrition for an optimal and sustainable healthy life, Soycan said, "Adequate and balanced diet, consuming seasonal vegetables and fruits, consuming local foods, preferring sustainable fisheries and seasonal fish varieties, consuming less red meat and processed meats. and choosing recyclable products in food packaging is among the principles of sustainable nutrition.
Soycan; The Mediterranean diet can be shown as an example of a sustainable nutrition model.
Stating that the Mediterranean diet, which aims to improve health and prevent diseases before they occur, can be shown as an example of a sustainable nutrition model, Soycan said, "In the Mediterranean diet, where mostly plant-based foods are consumed, the use of healthy fats such as olive oil is also high. Consumption of milk and dairy products, red and processed meats is also low, along with moderate consumption of fish and poultry. Low environmental impact, biodiversity, local economic benefits, healthy and nutritional benefits are among the sustainable benefits of the plant-based Mediterranean diet.
Soycan said, "As a result, it is very important to understand the effects of sustainable nutrition on our health in the light of scientific studies. For example, it is necessary to examine plant-based nutrition in terms of nutritional adequacy. Evaluating the economic purchasing power of individuals and their access to foods produced with sustainable agriculture is critical for the continuity of sustainable nutrition. Raising awareness of the society on sustainable nutrition and educating the society about food waste and loss are among the steps that will support sustainable nutrition.