EUL Students Observed Furniture Production on Site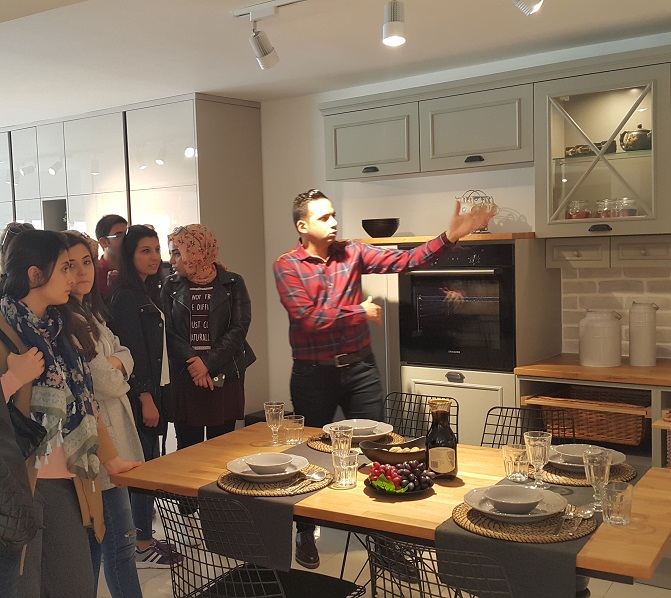 Within the context of lectures "Kitchen Design (Arch 3459)" and "Kitchen Design and Planning (Gast 417)" given by Assistant Prof. Dr. M. Selen Abbasoğlu Ermiyagil who is a lecturer at European University of Lefke, Faculty of Architecture Department of Interior Architecture a technical visit was organized to the Demirbağ Furniture Manufacturing Site located in Nicosia Organized Industrial Zone.
Students from the departments of Architecture, Interior Architecture and Gastronomy attend to the technical visit organized under the supervision of Ermiyagil and Architecture Department Research Assistant Özen Tokmak.
Ermiyagil pointed out that, as part of the visit students had the chance of experiencing all of the manufacturing processes, from the first phase of production which is woods entrance to the factory to the transformation of the wood to kitchen. Ermiyagil underlined that, in this context students find the opportunity to see the formation of a kitchen, kitchen cupboards and wall coating materials, production phases and materials of different kinds which were thought to them theoretically as a course content. She also pointed out that production phases were explained to the students by experienced craftsmen.
Emriyagil said that at the second phase of the visit they visited Demirbağ Showroom and Demirbağ Home Electronic Store which gave the students opportunity to see the final versions of different kitchens, to explore applications of different materials and to get information from experienced architect and interior architects.  She also said that, with this visit students had the chance to see electronic and modern devices and their application and they also had the chance to get informed about technicality and equipment of these devices.
Emriyagil referred that apart from kitchen designs, students had the opportunity to see products of a company which designs bathroom cupboards, gallows, TV units, doors, living room suites, dining rooms and bedrooms and office equipment.  She also pointed out that this was a great opportunity for the EUL interior architect candidates to see and examine the production phases of furniture's and interior products that they design during their lectures.